We may earn money from the companies or products mentioned in this post.
At the beginning of this month, I stumbled across The House Of Minerva. Owner Kate Elfatah and I connected on twitter, and I decided to check out her website.
I just loved how stylish everything on there was, and decided I needed to get something! As the mom of 3 girls, I was immediately drawn to the Girl Dresses. They were all so cute.
It's hard to hide anything from the kids, so Princess C saw me looking at these little dresses and came over to look with me. Her heart was pulled towards the Crow Dress.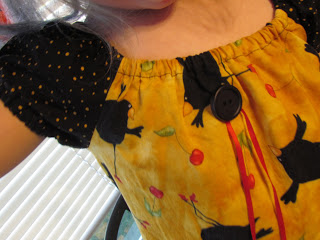 I kind of cringed at first, because, really crows? It definitely looked cute online and all, but I was looking more at the Apple Grove dress.
I mean come on? Isn't that just adorable? I was planning an Apple Picking family outing at the time, and thought this would just be perfect.
Princess C wasn't sold though. So after much thought, and lots of time browsing the House of Minerva website, I finally caved, and we got her the Crows Dress.
Which turned out to be a perfect fit – for her personality, and her choice of a Witch for Halloween.
What I love about the House of Minerva
The dresses are long! No bum length dresses here. They are generous in size, so my 4year old Princess could actually wear a 4T size. Which was great since this was the last crow dress available and it only came in a size 4T.
They are quality made! Princess C has been wearing this as much as possible. Which means it's been through the wash a few times since owning it.
Just contact them! The owner is kind, helpful, and will work with you to get you exactly what you want. Since I was concerned about sizing, she was willing to send me a prepaid envelope just in case it didn't fit. That, people, is Customer Service at it's finest
They sell more than just dresses! In fact it started out as makeup bags, and has grown! From clutches and tablet sleeves, to dresses and aprons.
Connect with the House of Minerva on
Facebook
Twitter
Pinterest
*I was compensated with product to write this review. All opinions are 100% my own and honest thoughts.