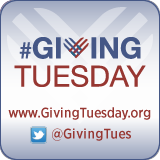 We may earn money from the companies or products mentioned in this post.
I have been looking forward to today for quite some time now. We've had Thanksgiving and followed it up with Black Friday, Small Business Saturday, and Cyber Monday.
Today marks the first and hopefully annual Giving Tuesday. Today we encourage you to get involved and give back. No matter how small, there is something you can do today to give to someone else.
Here are some ideas to get you started
Take your neighbor some home made goodies. Stay and chat.
Offer to pick up an elderly's groceries.
Help a mom – hold open the door, push her groceries to her cart, smile at her kids, compliment her mothering.
Donate to your favorite charity
Pick an angel to help this Christmas
If you have kids, encourage them to give as well. I find leading by example is the best though. If you are giving, they will want to give too. Enjoy the good feelings you will get as you serve your fellow humans.
I've recently learned about an easy way to donate to your favorite charity, that costs you nothing!
When you sign in to goodsearch you can pick you favorite charity. Then everytime you use Goodsearch to search the internet, a penny is donated to your charity. You do nothing but what you already do – search the internet!
I signed up this morning, and am donating my searches to the National Alopecia Areata Foundation. You can learn more about why I chose this charity on my
Sponsor Page
. It is a cause near and dear to my heart.
In addition to using GoodSearch today, I am also donating a portion of my last months earnings from this blog (approximately $50) to another cause
LDS Charities was established in 1996. They span all across the world helping in many different areas including Wheelchairs, Clean Water, and Immunizations. I can't think of a better way to help people then giving them the things they need to live and grow healthy. I was recently listening to a couple who had just returned from Cambodia serving a mission with LDS Charities. Did you know that one of the leading causes of death among those unable to walk (in Combodia) are snake bites? That took me by surprise. By providing them with wheelchairs, these people can avoid the snakes better, and their quality of life is improved so much.
What will you do today to Give back?
I'd love to hear your ideas.