We may earn money from the companies or products mentioned in this post.
Try this Impossible Cheeseburger Pie the next time you need a simple family-pleasing meal. With flavors kids love made at home, you'll love this too.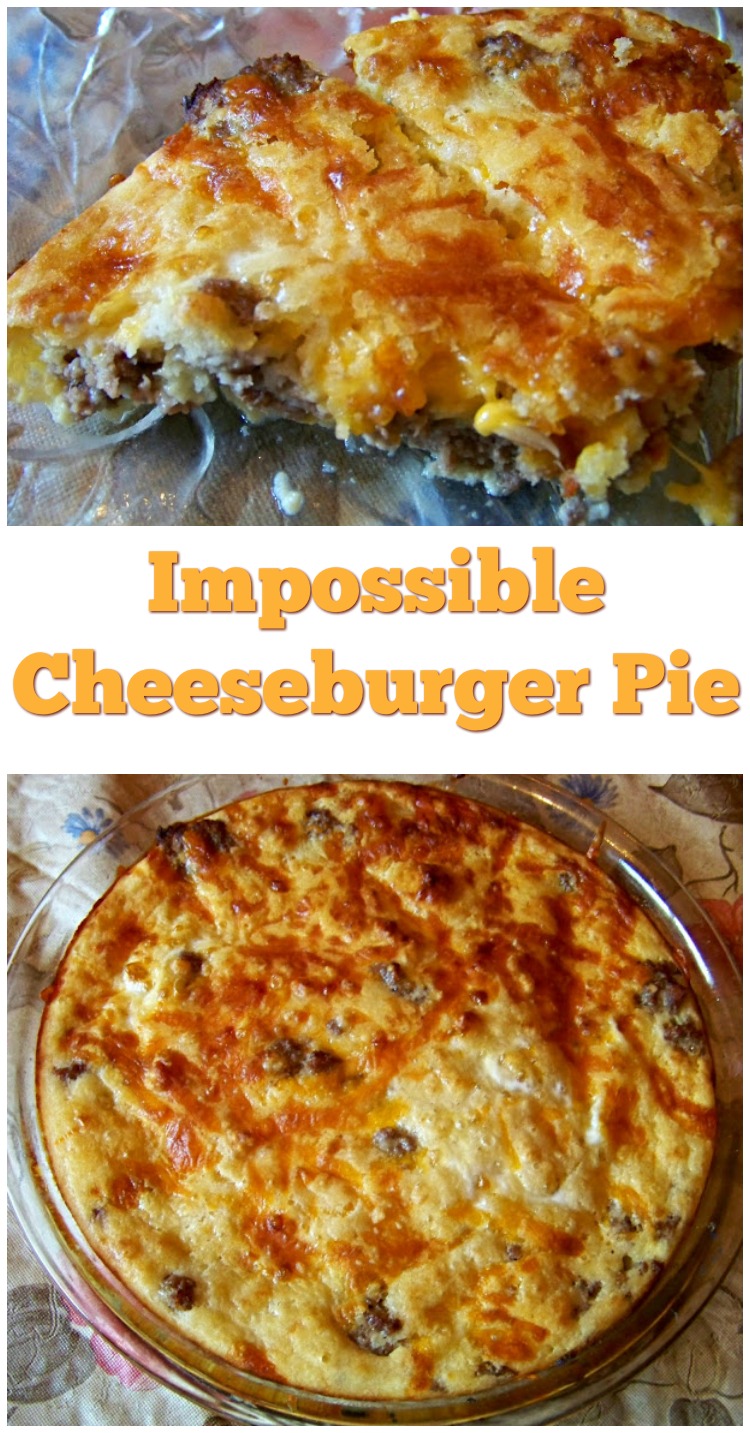 By the time you read this, I'll be settling into a large cabin by a lake in the mountains of Utah. Perhaps I'm sitting on the porch with a lemonade visiting with aunts, uncles and cousins, watching the kids run free. Every 4 years my mom's side of the family holds a reunion. The location changes depending on who is in charge that year. Lots of fun things are planned, from paintball to swimming. It should be a wonderful weekend.
Since I'm headed out I asked Tammy from Creative K Kids if she would guest post for you today. I just haven't had time to create any new recipes, or perfect some in the works recipes. She kindly accepted my request, and is sharing what looks like a yummy and kid friendly meal!
~~~~~~~~~~~~~~~~~~~~~~~~~~~~~~~~~~~~~~~~~~~~~~~~~~~~~~~~~~~~~~~~~~
Hi! My name is Tammy Doiel, and I am the mom of the Creative K Kids. They are not always creative, but they do like to pretend, color, craft, and cook. All of my four girls names begin with K, so thus our blog name was born! You can find our blog at
Creative K Kids
The following recipe for Impossible Cheeseburger Pie is super-duper easy. My mom used to make it in my growing up years, and now I make it for our family. All of the ingredients go in a pie dish, bake it, and voilà! It's done! Even though it takes 25 minutes to bake, after you brown the ground beef, the rest of it can be thrown together very quickly.
Recipe for Impossible Cheeseburger Pie
Impossible Cheeseburger Pie
2015-11-18 12:47:28
Ingredients
1 pound ground beef
1 cup chopped onion
1/2 teaspoon salt
1 cup milk
1 cup shredded cheddar cheese
1/2 cup Bisquick baking mix
2 eggs
Instructions
Cook ground beef and onion; drain.
Stir in salt.
Spread in greased 9" pie plate; sprinkle with cheese.
Stir remaining ingredients with fork until blended.
Pour into the plate.
Bake 25 minutes at 400F or until knife inserted in center comes out clean.
Home Maid Simple https://www.homemaidsimple.com/
Features from Foodie Friday

Orange upside Down French Toast
from Lean and Luscious Corner
Baking instead of frying makes this French toast "puffier and fluffier". Sounds good to me!




Chocolate Drizzled Cheesecake Cream Puffs
from The Home Heart
I love cheesecake. I don't care for Cream Puffs. Combined, I want to eat them all!




S'mores Fudge
from Long Wait for Isabella
I'm all about s'mores this summer. This non-messy treat is sure to delight just as much.