We may earn money from the companies or products mentioned in this post.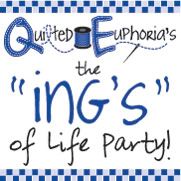 I'm linking up this month to Quilted Euphoria's "Ing's" of life party! Just a fun way to get to know each other better, and well, I needed something to post 🙂 Sorry for being such a slacker lately, I haven't been feeling too good lately.
Ok with that said, if you'd like to join up, head on over to The Quilted Euphoria to grab the button, and link up. And on to my "Ing's" of life.
Making : A baby 🙂 Oh, and attempting at making our lawn green again. Ugh, this heat and holey sprinkler system has left it a little dead. See when the previous owners put the landscaping in, they poked these really long nail poles right through the sprinklers.
Cooking
: Not much these days. Too hot for one, and too nauseous for another. Thankfully Mark has really stepped up and helped me out here this week!
Drinking : water, water and lots more water.
Reading: Right now, Ella Minnow Pea by Mark Dunn. Really great book! I mean this is probably one of the best I've read for awhile. Oh and Richard Paul Evans new book
Michael Vey
. It's also really good, and Mark actually got to meet the author and had the book signed to me! Awe, isn't he a sweetheart?
Wanting: For the nausea to leave, and this constant head cold to leave. That would be the best thing ever right now!
Looking: At the pile of dishes still needing to be done from the
flour fiasco
. It's only times like this that I do wish I had a dishwasher.
Playing: words with friends on facebook.
Wasting: away. lol, just kidding. I feel like I'm wasting my time everyday because I don't have the energy to get up and do. Ah, I just need to tough this out!
Sewing: nothing 🙁 I wish I was! But time has been against me in the sewing department. Next on the list though, is some nice curtains for the windows.
Wishing: that I didn't feel so drained every day. Wishing that I could be more help to Mark as he gets ready to start another school year. Wishing I had more motivation to do everything.
Enjoying: My kids playing happily.
Praying: That we all can live in peace, and show kindness to everyone even our enemies.
Waiting: For my first dr's appt…Not for another week!
Liking: That tomorrow is Sunday, a day of rest.
Wondering: What in the world to make for dinner tonight.
Loving: Mark. He's amazing in every way, and he has stepped up a ton lately. I just love him to pieces!
Hoping: I can get dishes and laundry really caught up, so I can focus more on the fun stuff!
Marveling: That my Princess V is going to preschool at school this year, and if her birthday had been just a month earlier, she'd be starting kindergarten!
Needing: Food that doesn't make me feel really sick. oh and a nap. Those would be great.
Smelling: Heat. Can you smell heat? I think you can.
Wearing: Holey jeans, and a yellow tee.
Following: Oh you don't want to know! I actually had blogger tell me I hit my limit of blogs to follow. I might have a problem….
Noticing: That it's about time to figure out dinner and get it going!
Knowing: That this too shall pass, and my energy will eventually return
Thinking: blank. haha! My mind has felt so empty lately, lol. no, I'm thinking I need to get a move on decorating this house so it looks awesome!
Bookmarking: My scriptures. It's the only book that has an attached bookmark, so it gets bookmarked 🙂 Everything else I go by memory.
Opening: A can of worms with my friend in politics. Ok, I closed it too. I just don't do drama people.
Giggling: At Princess R's climbing abilities. Way too advanced her age!
Feeling: Happy I finally got another post in!