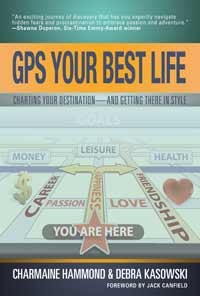 We may earn money from the companies or products mentioned in this post.
I just finished two books that were both inspirational and motivational. One is geared more towards adults – GPS Your Best Life – and one is a picture book for kids – The Adventures of Blue Ocean Bob.
When I picked up GPS Your Best Life, I knew what I was reading. I picked it up to read specifically to gain a little more motivation and direction in my life. Authors Hammond and Kasowski use the GPS as a metaphor for achieving our best life.
Although I felt they may have rushed to publication (one more edit could have really helped), I still learned a great deal from this book. I started thinking of what I want my best life to look like, how I plan on achieving it, and how to overcome roadblocks. I took insight into my life while reading this book – a thought that often gets pushed back in the daily hustle and bustle of life – and realized that for the most part, I am living my best life. Of course I could always be better, do more, become more – but for me, my best life is being a mom. I am pretty much living my dream.
Around the same time I began reading GPS Your Best Life, I also picked up Blue Ocean Bob to read to the kids. Wow! It was not at all what I thought it was going to be. Granted if I had taken the time to read a little more about it before I picked it up, I would have known, but I just saw a great cover, and thought that looks fun and educational.
It was both fun and educational. I called this a picture book, which isn't wrong, but it is also a chapter book. Blue Ocean Bob lives on the Island of Roses. Although he is happy on his island, he begins to want more for his life. Bob begins his journey of fulfillment by speaking to wise animals, learning lessons in patience, and overcoming obstacles that may seem too large to pass. Xena, his hummingbird gives a fair representation of the negative voice we all have at some point in our life. Telling Bob it's just too hard, he shouldn't try because he'll just face disappointment. Better to live happy than to be let down.
I absolutely loved Blue Ocean Bob. The story itself was great, but it is also written in rhyme, and has some beautiful artwork.
*I received copies of these books to facilitate this review. All thoughts and opinions are my own.