We may earn money from the companies or products mentioned in this post.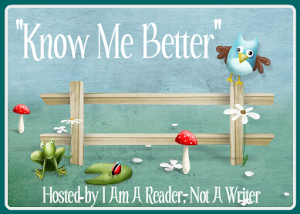 This is a weekly meme hosted by I am a Reader Not a Writer, in which you my lovely readers get to know me better!
This weeks questions are:
What's your favorite season/weather? I love spring and fall for the weather. It's just perfect. Not too hot and not too cold (usually, this years fall is getting quite chilly). I also love the color changes we get in both seasons. The spring flowers blooming, bringing new life; and the fall trees changing colors and dropping their leaves.
PC or Mac? PC. It's all I've ever owned. I have used my mom's Mac before, and it was very confusing to me trying to find the simple things. I'm sure if I ever had my own, I would get used to it, but I prefer using what I know.
When you were little, what did you want to be when you "grew up"? I wanted to be an OBGYN. Yes that was my 8 year old selfs dream. I honestly have no idea why, and that dream is no longer in existance. I really don't like blood, especially in large amounts, and needles scare the heck out of me!
Facebook or Twitter? I really enjoy (maybe too much) facebook. I try to post a lot over there, both on Home Maid Simple's page, and my personal page. I have a lot of friends I moved away from in high school that I've been able to reconnect with. It's been a wonderful outlet for adult interaction. I'm just getting into twitter though, and I do like it to find products, tips and advice quickly.
What TV show/movie/book do you watch/read that you'd be embarrased to admit? I love disney channel. We don't actually have cable though, so I don't watch anymore, but when we did, I enjoyed Good Luck Charlie, Wizards of Waverly Place, The Suite Life of Zack and Cody, etc.
I hope this gives you all a fun glance into who I am and where I come from 🙂 I'd love to hear your answers in the comments, or you can link up over at
I am a Reader Not a Writer.