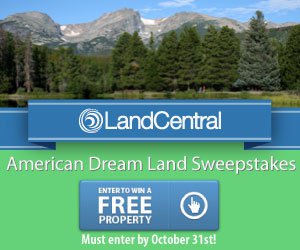 We may earn money from the companies or products mentioned in this post.
Check it out everyone! Land Central is giving away a piece of land!!!
I'm not kidding, LandCentral has teamed up with MomPact to give away a piece of land in one of the following states
Arizona

Pennsylvania

Colorado

California

Florida
If you have ever wanted to own your own land, whether to build your own home, or just have some property to visit, you don't want to skip over this giveaway! The winner will get to pick which piece of property they would like to own.
Mark and I have been toying with the idea of just buying some land and building our dream home. We're a little tired of looking at houses. Either we love the house, and hate the land, or we love the land, but hate the house. In fact if it weren't for the house on the property, we found the perfect piece of land over the weekend. It had beautiful mountain views, was a little secluded, and the perfect distance between the grocery store and Mark's work.
I digress….If you've ever thought about purchasing some land, you should really check out Land Central, and you should definitely enter this amazing giveaway!! I mean, come on, when else will you have the chance to win some LAND!!! Follow the link below to Land Central, and enter the giveaway on their sidebar!