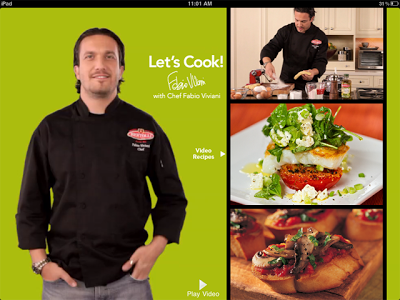 We may earn money from the companies or products mentioned in this post.
Have you ever turned on the cooking channel and wished you didn't have to go search the internet for a recipe, or sat there trying to write every ingredient down? Yeah me too! All new from Fabio Viviani Top Chef All Stars and Season 5 Fan Favorite, is the Let's Cook App for Ipad, Iphone, and even Itouch!! I was really excited to try out this app. I love cooking, and I love Top Chef. Fabio is definitely a favorite here.
The Let's Cook App features
– More than 5 hours of video right at your finger tips (no streaming required)
– 16 step-by-step video recipes in full HD
– 100+ recipes hand-selected by Chef Fabio
– A dozen of Chef Fabio's cooking and entertaining tip and menu suggestions
Here's a little teaser for you!
So for dinner one night last week we had some Fresh Fettuccine with Crispy Pancetta, Mushrooms, and Cherry Tomatoes. It was divine. My kids ate it up like it was the best stuff ever, and Mark asked if there was more. We had no leftovers, a very odd occurrence in our household.
Don't worry I'm not going to just leave you with the picture, and my review. Why don't you try it for yourself? Here's the recipe!
RafflecopterSettings = {
raffleID: 'M2Y4ZmZjMzkyM2UyMDRjZTJhY2I3ZDBlNWZlMTRkOjQ='
};
<a href="http://rafl.es/enable-js">You need javascript enabled to see this giveaway</a>.