We may earn money from the companies or products mentioned in this post.
This post contains affiliate links. When purchasing through them, you support Home Maid Simple. Thank you!
As I continue to work on
Finding my Fashion
, I've realized it's similar to decorating the home. So why not match my fashion to my home's fashion? Or vice versa – match your home's fashion to your fashion.
I've been dreaming of chandeliers in our home, because they are just so gorgeous. They don't just add light, but they add a whole style to your room. I've found a few favorites around Wayfair and Amazon that match some of my favorite jewelry from Cents of Style. Have you ever tried matching your fashion style to your home's decor?
If you have a room that's pretty dark, that you want to really light up, I would go for a classic chandelier. One that will really grab the light and spread it through the room. Something like this
crystal chandelier
.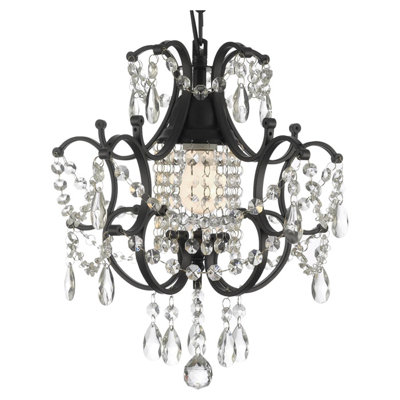 To match my style, I'd pair this with Cents of Style's
Tina Necklace set
. The large clear jewels will help brighten an old outfit. Cents of Style is often adding and changing their jewelry, so browse around and see what necklace will fit in with your home's lighting.
What do you do if you have a really bright room though, and you want to tone it down a bit? I love the angles on this light from Amazon. It fits perfectly with a lot of the jewelry I like to wear and really helps give light, but keep it toned down a bit too.
A perfect jewelry accent for this light would be the vintage
Napier Triangles Necklace
. I could easily see myself wearing this Necklace out on the town with Mark. Simple but with flair that pulls attention right to it's smooth angles.
When you match your home's lighting to your favorite piece of jewelry, it adds a pleasing bit to the eye when you have no reason to get all dressed up.
What jewelry would you pair with your home's lighting? Or would you change up your lighting to match your jewelry?