We may earn money from the companies or products mentioned in this post.
While trying to maximize our home's appeal to potential buyers while still saving money, we decided to change up the lighting in our stairway.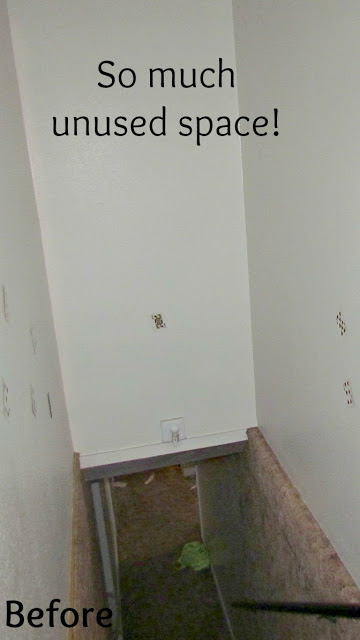 The biggest problem I found with the original lighting, was that it had no cover, and at one point while going down the stairs you'd be staring straight into it. Not the most comfortable thing. Mark believes at one point there was a large mirror in front of it that would light up. I can see it, but there was no mirror now.
So we decided it needed to be changed. We didn't want to spend money though, especially since we had the perfect light in the front room.
See that hanging light. It really didn't fit in the front room, but that's where it was when we bought the house, and it is the only light in the front room. It plugged into the wall with the light switch wired to it as well. The problem here was it only lit the one side of the room, and the shelf was in the way of the chain.
Mark's brilliant mind saw this as the perfect stairway light. With the nice long chain on it, Mark only had to do a small bit of electrical and wiring work to wire it directly into the wall, in the same place the old stair light was attached, but now the light hung from the ceiling instead of directly in our eyes.
And in case you'd like to comment on it, yes the walls are carpeted in the staircase. Gosh I love the 70's! Do you realize how many fingerprints I don't have to clean in this area because of the carpet?