We may earn money from the companies or products mentioned in this post.
Part of being a parent is disciplining your children when they make wrong choices, or have bad behavior. It is also setting an example so they know how to behave and can easily choose right from wrong.
We have been struggling with getting our kids to behave kindly, and well, just in general behave. I hope it's not just me that struggles with kids pushing their boundaries, but I know in public I see much better behaved kids than my own. Last week as I lost control of my own behavior and acted shamefully in front of my kids I knew I was failing. I was failing as a mother and example to my kids. I cried to Mark that night, and even though I know I've succeeded in some areas, this one was becoming too much for me.
Mark, as always had a brilliant plan. So I sucked up my tears, and set to work creating a behavior chart for little miss Princess R. At 3 years old and in the middle of the pack, she seems to push boundaries the most. I crossed my fingers and just hoped that this chart was going to do the trick.
The basic idea was to have a chart with an item that could move up and down according to her behavior. Good behavior moves up the chart, bad moves down. I wasn't sure how I was going to create it at first, but it soon came all together. I started on picmonkey to get my basic design (right click to print your own)
I printed our chart on card stock to have a nice solid background for the movable piece on the side. Next I made a slit with an exacto knife down the right side of the chart. Finally we attached a
paper flower
from My Memories Suite with a decorative brad.
If you do not currently have My Memories Suite, you can use code for STMMMS37783 $10 Off the program download.
Once the flower was attached we used some Zots to stick the chart up on the wall.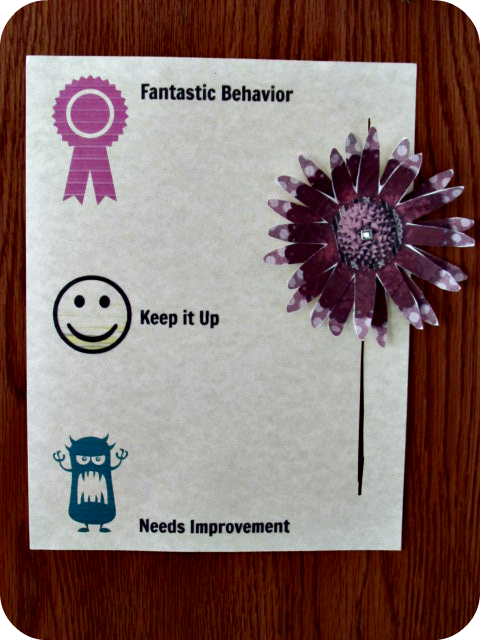 It's been a few days since we have implemented this chart for Princess R, and the effects have been stunning! Not just for her either – but for me as well. Instead of losing my cool, and raising my voice, I calmly ask Princess R if we should move her to the Little Monster or up to the Ribbon. Princess R is just that – a Princess. She is not a Little Monster.
We still have our days of tantrums and Doing it Her Way, but they are calmer, we listen to each other better, and our overall behavior has stuck between the Happy Face and The Ribbon. Once we stay at the Ribbon Princess R will be allowed to pull a treat from our very coveted Treasure Box. Today looks like it will be a Treasure Box kind of day.