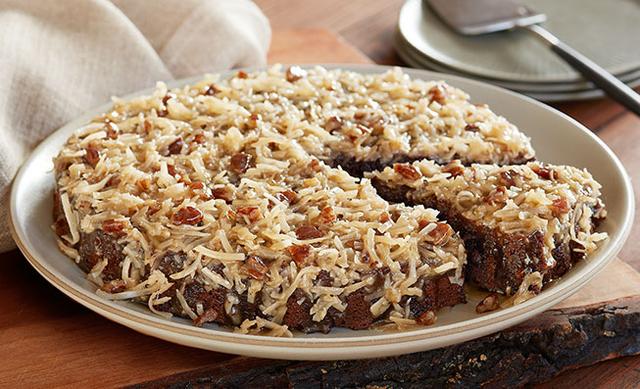 We may earn money from the companies or products mentioned in this post.
This post brought to you by
Private Selection
. All opinions are 100% mine.
We love desserts around here!  If you couldn't tell from all my delectable Foodie Friday recipes lately, I spend a lot of time in the kitchen concocting recipes, and hoping they turn out great. When I have company coming over though, I do not like to experiment with our dessert. Sadly, that's exactly what I did the last time we invited friends over. I spent a fair portion of the day creating these little apple pies, only to want to hide after serving them.  They really were that bad! 
Looking back, I should have gone with one of my tried and true recipes, like cookies, but I didn't. It would have been so nice if I had some of Private Selections Upside Down Cakes on hand. Instead of serving odd looking and a tad cold apple pies, I could have just pulled out an Amber Honey Apple Spiced Upside Down Cake. A quick warming in the microwave, followed with a flip onto a pretty plate, and voila! Dessert served without embarrassment.
Of course the German Chocolate Fudge or Double Chocolate Molten Upside Down Cakes would have also been delightful to serve up in a pinch.
If there's one thing I learned about entertaining from my Mother In Law, it's to always keep something quick and easy on hand. She stocked me up one summer with brownie and cake mixes for the "just in case" events that came my way. It was so nice to have those in my pantry when the calls came in to drop a dessert off at the church…because I signed up to do it! Sometimes I sign up for too much, and easily forget until those calls are made. Private Selections look so scrumptious, and since they are already mixed and baked, are even easier to prepare and drop off in a pinch – Warm, Flip, Serve.
Private Selection is a premium Private Label Brand sold exclusively at Kroger and it's affiliated Stores. To find a store near you, visit the easy to use
Locator Tool
.
Right now Kroger is offering a $1 Off or $2 Off coupon to Private Selection Upside Down Cakes.  
Private Selection Upside Down Cakes coupon
Disclaimer: Coupon ends 6/2/13. Official rules: In order to load these coupons to your card, you will need to sign into your Kroger account or set up a Kroger account and enter your card number. Limit one use per digital coupon. Digital offers are not eligible on Managers Specials, cannot be combined with manufacturer paper coupons on the purchase of a single item, and do not double. Not all items are available in all stores. A limit of 150 coupons can be loaded per household at one time.
Private Selection uses only the best ingredients when making their cakes, so it truly tastes homemade!  
Connect with Private Selection
Private Selection Upside Down Cakes on Facebook
Private Selection Upside Down Cakes on Pinterest
P.S. Don't Forget the Cake!