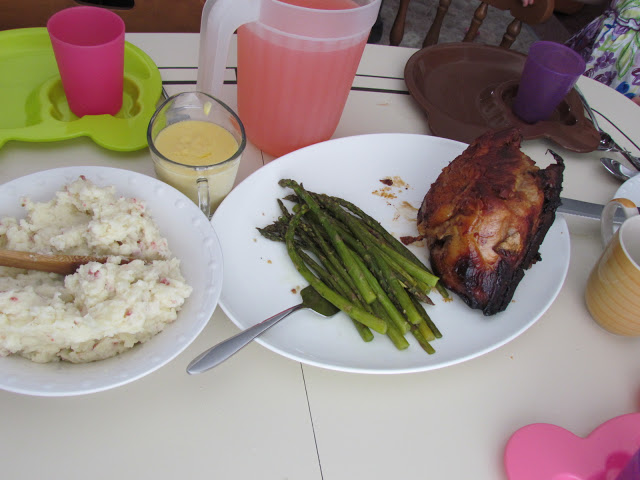 We may earn money from the companies or products mentioned in this post.
We had a Pork Roast, Mashed Potatoes, and Asparagus for dinner last night. I think I got the best reviews from Mark I've had in awhile. Don't misinterpret, he almost always enjoys what I make – but this meal was right up his ally, and he really really enjoyed it. I just might need to make roast more often.
Looks good doesn't it?
I cooked the roast in a half can of Pepsi (because it was sitting on the counter, that's why), some butter, and Jamaican Jerk Seasoning. The potatoes I added a little ranch, bacon bits, milk and butter to. Finally the Asparagus I pan fried in Hickory Smoked Grapeseed Oil with some Ranchers Steak Rub seasoning. We can't forget the Hollandaise sauce either. It's the perfect pairing for asparagus, but worked as a great "gravy" for the potatoes as well.
I must have really felt successful last night, because I've put together a bit of an ambitious menu plan this week!
Monday – Smoke Salmon and 2 Potato Hash
Tuesday – Beef Mushroom Spaghetti
Wednesday – eating out
Thursday – Navajo Tacos
Friday – Enchiladas
Saturday – Cornmeal Chicken
Sunday – Chili
See ambitious! I didn't even schedule in a leftovers night, and I know there is going to be leftovers! We'll just have to eat them for lunch I guess.
*I'm linking up to OrgJunkie's Menu Plan Monday