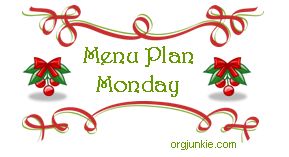 We may earn money from the companies or products mentioned in this post.
What's on your menu this week?
I know I don't always follow my menu's, but sitting down at the beginning of the week to plan everything out, really makes dinner time more pleasasnt (even if it's not what was planned).
Monday – Tuna Helper
Tuesday – Salsa Chicken over rice
Wednesday – Cheesy Potato Soup in Bread Bowls
Thursday – eating out
Friday – Dijon Chicken Noodle Toss
Saturday – leftovers
I'll probably be doing a lot of baking this week as well. I need to figure out what to take our neighbors when we go caroling, and I'm in the mood to have some sweets around the house too.
Yesterday I kicked off my sweet tooth by baking these delicious Strawberry Cheesecake Santa Hats with the Princesses
Strawberry Cheesecake Santa Hats
Ingredients
8oz cream cheese
4 TBS powdered sugar
1 tsp vanilla extract
vanilla wafers
1 pound strawberries
Directions
Mix the first 3 ingredients together until well blended. Wash the strawberries. Cut off their tops, and hollow a little out of the inside (for extra cheesey goodness!). Arrange the wafers on a plate, and pipe some frosting around the edge. Then pipe some frosting inside the strawberries, and stick to a wafer. Add a little frosting to make a pom pom hat. Then enjoy!!