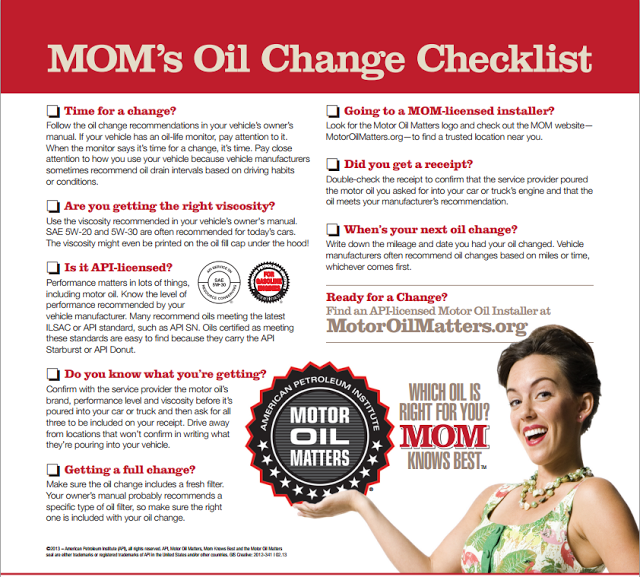 We may earn money from the companies or products mentioned in this post.
*This is a sponsored post on behalf of Motor Oil Matters. The Motor Oil Matters Information and Gift Cards have been provided by Motor Oil Matters. All thoughts and opinions are my own*
Last year I set a goal to learn how to change a car tire. Sadly I still have not taken the time to learn how to change a tire. Car maintenance is so important though, and learning how to maintain your car before an accidents happen could possibly save your life, and will definitely save you money.
AAA expects between the major summer holidays of Memorial Day and Labor Day to aid over eight million motorists, and cautions drivers that auto maintenance is key to avoiding summertime travel breakdowns. Ensuring quality motor oil in your car is one way to prevent road trip problems.
Alright, who here has ever taken care of their own car maintenance? Do you leave it up to your spouse, or perhaps even the car dealership? In the past I have always left car stuff to Mark. With the possibility of Mark being gone working while I'm home packing to move, car maintenance has become a little more important to me, but also a little intimidating.
Motor Oil Matters, or MOM, a new consumer education and industry watchdog program by the American Petroleum Institute, has been established to stress the benefits of quality licensed motor oils and call on to the carpet those who engage in deceptive practices.
I was so excited when MOM contacted me to help get the word out about their program. With their handy checklist, and list of MOM-licensed oil change locations, women and even men no longer need to feel intimidated when getting our cars maintenance done. Print out this fun checklist to take with you to your next oil change!
Who's up for a deal? Why wouldn't you trust your licensed oil change location to put the right stuff in your car?
Service-locators can be quick to offer discounted services to people who are looking to reduce their automotive maintenance costs. Make sure your service provider is pouring quality motor oil into your car before you decide on a cheaper deal.
I know I'm always looking for ways to save money, but when it comes to car maintenance, I rely on that vehicle to keep my family safe while traveling around the country. Just like I wouldn't feed my kids candy for breakfast lunch and dinner, your car needs "good food" to keep it going. So just make sure that that deal your eyeing, is something your car will like as well.
Giveaway!
MOM has been kind enough to offer one of my readers a $50 gift card to go get their oil changed! Can I get a Thank You! for this wonderful program looking out for us? Just like my Mom, always keeping us safe.
To enter to win just fill out the Rafflecopter.
*This giveaway is open to US residents only*
All entries will be verified
Check back next week for a recounting as I go solo to get our car's oil changed.