We may earn money from the companies or products mentioned in this post.
We love a good movie night! Enjoy this easy Jambalaya recipe to go with one of our favorite family movies – The Princess and the Frog. Find other fun food and activity ideas below. This post contains affiliate links and I will receive compensation if you click on and purchase.
We love having a family movie night. One of our favorites to watch is Disney's The Princess and the Frog. As adults, we love it for the Cajun food. The kids love it for the humor sprinkled throughout.
Mark spent 2 years in the southern states, enjoying all the food they have to offer. From the delicious – Jambalaya, Gumbo, Hush Puppies, and Beignets – to the odder – Squirrels and Frog Legs – he's tried it all. I refuse to make the latter ones, but the rest I enjoy almost as much as him, and so do the kids. Enjoy this recipe for an easy jambalaya that's not too spicy for kids.
Easy Jambalaya
2017-08-05 14:30:26
Serves 8
Head to the south with this easy kid friendly Jambalaya recipe
Ingredients
1 TBS Olive Oil
14 oz Smoked Sausage, cut into 1/4 inch thick slices
1 onion, chopped
1 cup chopped green peppers
4 chicken breasts, cut into chunks
3 cups white rice
1 package onion soup mix
20oz water
32oz Chicken Broth
1 TBS Cajun Seasoning
Dash of Sriracha
Instructions
Cook chicken in skillet until no longer pink.
Preheat oven to 350° F.
Heat oil in a large, oven safe pot.
Add sausage, onion, and pepper to pot. Cook until veggies are soft and sausage is starting to brown.
Add chicken, rice, soup mix, water, broth, cajun seasoning, and hot sauce.
Cover with a lid, and stick in the oven.
Cook for about 1 hour, or until the water is gone and the rice is softened.
Periodically stir during cooking time. If water is absorbed too fast, add in another 1/2-1 cup.
Adapted from eMeals

Home Maid Simple https://www.homemaidsimple.com/

Movies and good food I feel go hand in hand, but I don't always want to cook up a whole feast. So while I have made beignets before – grab the recipe here – but for our most recent movie I picked them up from our favorite Cajun Cafe – MudBugs. Along with their amazing beignets, I've never had a better Hush Puppy than the ones they make. Plus their sauce is just mouthwatering.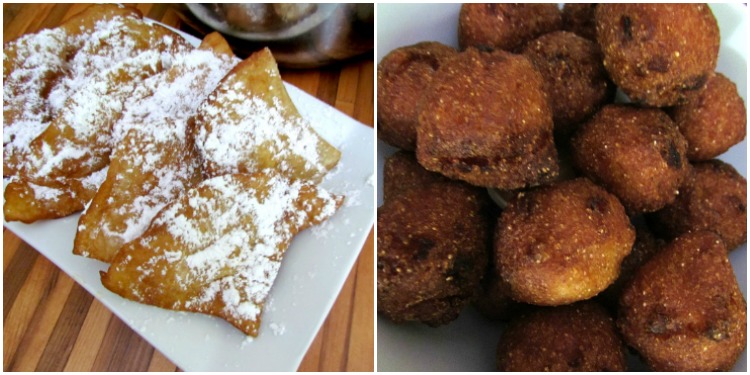 Now that we've got the food covered, there are a lot of other really fun things you can do for your Princess and the Frog movie night.
Princess and the Frog Activities
Pin the Crown on the Frog from TipJunkie
Lily Pad Hopscotch from Silhouette Crafting with Martha
DIY Tiana Steampunk Hat from Home Maid Simple
DIY Lightning Bug Jar Craft from The Girl Creative