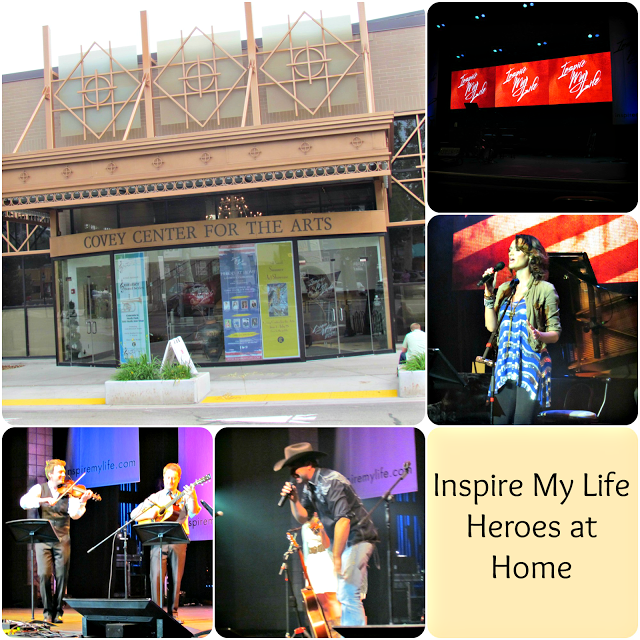 We may earn money from the companies or products mentioned in this post.
Happy Independence Day
Last Saturday I had the wonderful opportunity to attend the Inspire My Life: Heroes at Home event in Provo, UT at the Covey Center. It was an amazing evening of wonderful music and inspirational speakers.
Today on our Nations Birthday, I wanted to share some photos and some of the inspirational thoughts I received that evening.
The night opened with the Aaron Ashton Band. Aaron plays the violin, viola and electric violin. His music can be heard on Spartacus, The Velveteen Rabbit, and The Red Dragon. When he first started playing I was taken back – back to a time when I played the violin. I truly enjoyed sitting back and listening to so much talent. It was during Aaron's set that I felt inspired with some job possibilities for Mark as well. Music truly is a way to relax and see your life in a bigger picture. I really loved seeing one of the band members playing a washtub bass as well. How cool is this?
After Aaron's band we got to listen to Hank Smith – a PhD candidate at BYU, Hank works in consulting and has given motivational speeches around the country. Hank spent the evening telling us about making choices. He tied his whole speech into the history of our wonderful nation. Did you know in Wasghinton's early 20's he wrote home saying "I am a Failure". George Washington said that! Did he let that stop him though? No, he made choices and decisions that led him to be America's first President.
The impossible becomes possible through Determination.
Words of wisdom. We need to have a little determination and we can do anything. Hank moved from talking about the Heroes of our country to the Heroes at home. People like Erik Weihenmayer who became fully blind as a preteen went on to climb Mount Everest. Now that is an inspiring story of perseverance in the face of trials.
We had a short break after Hank, where I then purchased a copy of Aaron Ashtons cd, and got to talk to him about his music and the inspiration he gave me. I also sat and admired this awesome mug they were selling. This would be such a fun mug to curl up with on cold winters nights.
After our break, we headed back in for some more music from Katherine Nelson. If you haven't heard of Katherine Nelson, you should just go listen to this song, right now. I'll wait.
Wow, right? I totally cried listening to this song. Katherine is such an inspiration for women of all backgrounds and futures. Once again, we had a short break, and this time I got to meet and talk to Katherine. She signed a photo for me with the note Be Brave Girl!
The night ended with performer Charley Jenkins. WOW!! I mean really. Like Katherine I had actually never heard of Charley before, but now in my husbands words "you're like a teenager with a crush". I mean the night was just completely wonderful, and Charley's performance topped the night. He worked the audience, got us all involved and dancing around. He even posed mid song for my sister in law to snap this photo
Want to know a fun little secret? The morning before the performance Charley wrote a new song. So during our evening performance they changed up the program a bit, and he sang his brand new, never before song for us! That was a treat, I tell you.
I've been on a bit of a high for the whole last week. I put the girls to bed listening to Aaron Ashton, and drive around listening to Charley Jenkins. I think often of Hank Smith's lessons on determination and perseverance, while Katherine's words of encouragement to women keep me going on the hard days.
To all our soldiers serving this wonderful nation, true heroes of the American people, and to all our Heroes at Home, Thank you. Thank you for the service you've given to this country, your families, and friends. Have a happy and safe 4th of July!