We may earn money from the companies or products mentioned in this post.
As part of our Kitchen Remodel, we decided to put a light over the sink.
When we moved in there was a small cupboard over the sink. One day as I went to put some items in the cupboard, I noticed there were wires sticking through the back of it. Not just any wires though, really large ancient wires. Obvoiusly before the cupboard was there, a light fixture had been hanging above the sink. Perhaps at one point, that was the only light in the room. Who knows, but those fat wires kind of scared me just hanging out like they were.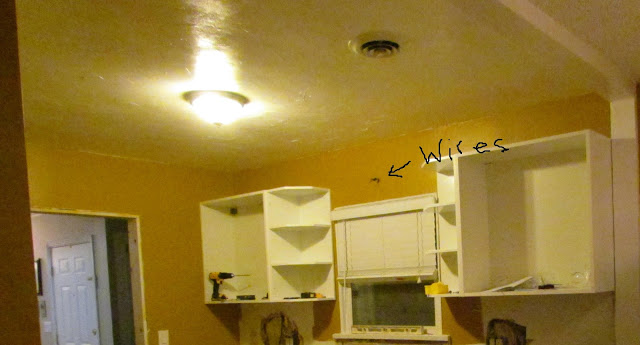 The kitchen ceiling is quite tall, and the center light really wasn't all that effective, even though it's a fairly small room to begin with.
I browsed online for awhile and decided I really liked this hanging light. I thought it would match the style we were going for.
Don't you think that would have looked nice in there? So did I. Until we ordered it, it arrived and we found out it is for track lighting. Not something we wanted to play around with and add above the sink.
Well Mark has made many trips to Home Depot and Lowes lately, and on his latest trip he came home with a new light. I have to admit, he did a pretty good job. I'm pretty in love with the new light, and it makes night time dish washing a whole lot easier!
What do you think?