We may earn money from the companies or products mentioned in this post.
Oh this was so yummy! I got the idea for this salad from one of eMeals simple sides – Pear Feta Salad. I took what I had on hand, and fresh in the garden though, versus a store bought salad mix. I also prepared my own Vinaigrette after doing a little research into what exactly makes a vinaigrette.
My lettuce and peas are ready to start harvesting, but the carrots still needed a little time, so I left them out of the salad. I do feel it's lacking in a little color, but it is not lacking in flavor!
I get little flutters every time I look out into the garden. I always thought having a large garden would be hard. That it took lots of time and care to get vegetables to grow, but guess what – it really isn't that hard! The hardest part for me has been the weeding. The previous owners used cow manure every year, which is great for the soil, but terrible for weeds. My friend told me to try sheep manure in the future, because the sheep actually grind any seeds they eat down, so they won't regrow out of the manure, unlike cows. Just a bit of info for you today .
Whoa, I digress – let's get back to this salad! I wasn't sure at first if it was really good enough to share here on Foodie Friday, but the more I ate, the more I loved. I can still taste the light taste of the vinaigrette, mixed with feta and peas on my lips. So yummy!
Pear Salad with Raspberry Vinaigrette
For the Salad – now bear with me here, I just got a kitchen scale, and since I picked some of these fresh from the garden, I'm giving you weights, with approximate measurements.
23g Fresh Garden Peas. Or approximately 2 spoonfuls, or 11 whole peas shelled.
2 TBS Feta Cheese
1 TBS Slices Almonds
1/2 of 1 Pear, sliced
1-2 TBS Raspberry Vinaigrette Dressing
For the Dressing
3 TBS EVOO
1 TBS white balsamic Raspberry Blush Vinegar
1 tsp raw, unfiltered honey
In a small bowl, combine Dressing ingredients. Set aside.
In a serving bowl, combine all the ingredients for the salad, minus the dressing. Toss together, or layer like I did, eventually it all goes to the same place. Drizzle on as much dressing as you like, but it really doesn't need much.
I made a single serving for me to enjoy after taking the kids to swimming and the park, and it was perfect. You could easily dish this as a dinner side as well. The dressing was so yummy, I would even consider just drizzling it on some peas with a little feta.
~FEATURES~
Today I'm bringing you Breakfast, Lunch and Dinner. Enjoy these recipes from last week's link up.
Berrylicious Ataif
She calls this a dessert, but it reminds me a lot of crepes, which I eat for breakfast. So fruity and creamy, I could probably eat this anytime.
Roast Beef Pesto Panini
Summertime is Sandwich time here. I love this combination of Roast Beef and Pesto on a Ciabatta bread.
Tempura Sushi Salad
Mark and I adore sushi, but it is intimidating to make at home. I can't wait to try out this deconstructed sushi!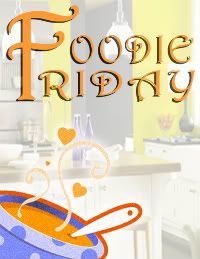 Welcome back to all our returning Foodie Friday Friends! If you're new here, grab a button and link up your food related posts on the linky.
Don't forget to visit my co-host Diane at
Simple Living and Eating
, and then hop around and find some new recipes, and new friends.
Loading InLinkz …