We may earn money from the companies or products mentioned in this post.
*This is not a sponsored post. However it does contain some affiliate links. When clicking on some of these links and purchasing through the site, you are supporting Home Maid Simple. Thank you*
If you've been following along for awhile now, you are probably aware of the Master Suite remodel we have undertaken. It began as a simple bathroom remodel, but as with most remodels, it escalated into the whole Master Suite. Today I thought I would take you on a little tour, and share some of the really classy designs we've got going on.
To celebrate my birthday on Tuesday, I took charge of knocking out the wall between our bedroom and the extra room to create the large master suite, and allow us access to a closet again. Our original closet has become the shower…I'll show you that down a bit further.
So down came the wall. One thing we were not expecting was sheets of plywood between the two sides of the wall. Since this is a manufactured home though, it does make sense. While I did this, Mark spent his time in the attic rewiring the lights. We now have one light switch controlling the 2 sides of the room. Coupled with the 2 large windows, I am really in love with the light in this space.
Let's take a look around now, at just how awesome this space is going to be.
It's a little hard to see in this photo but the bathroom entry is not the doorway you see, but rather just on the other side of it, where the piece of sheet rock is leaning up against (have to keep the kids off the shower floor until the mud sets). It will not be your average sized doorway at 24″, but when working in older homes, you do what you have to. We actually debated leaving the entry in the hallway, and making the other side linen storage, but decided a Jack and Jill entry was our preferred style.
The door into our bedroom will be walled up, and we'll keep entry into the Master Suite on the extra rooms side.
Can you picture a nice little sitting area under that window? I sure can!
Let's move onto the bathroom shall we?
This photo is from between the 2 entryways into the bathroom. You get kind of angled feel first walking in, but there is so much space once inside, it will really be beautiful. Of course the toilet and vanity are still waiting on the floor to be added, but you can see the general idea. The vanity will be on the wall facing the bath, affording a more room like design instead of everything in a row.
We'll be putting the original toilet back in, but the vanity was too outdated, and falling apart. So we of course visited our favorite home design store, IKEA, and purchased this vanity
For better lighting and ventilation, we decided to upgrade those as well with this fancy (and seriously I swoon every time I think about getting this light installed!) hanging light and vent combination from Home Depot
It's a lot of white, I admit, but I think bathroom fixtures should mostly be white, and then add the color in the walls, and accessories. For example, I went out and purchased us some new blue and yellow Martha Stewart bath towels from Macey's (
I may have jumped the gun a little
), and some beautiful soap from
Layla and Grace
Let's head back for one last look at our current DIY project, the walk in shower.
This area you are looking at, use to be the closet for our bedroom. It is obviously now turning into a walk in shower. A plus for any home! Mark can take his showers, and I can relax in my bathtub. A win for all involved. It has been exciting learning how to put a shower together, but I am really mostly excited for the shower fixtures to go in! As a Friends of Pfister Blogger, I received this Kenzo Raincan Shower Head and handheld shower to put into our new shower. I am just itching to get them installed, but there's still the floor and walls to get finished up first.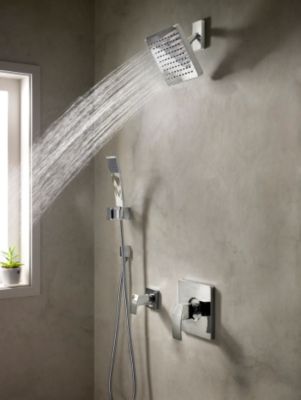 Have you ever Remodeled a bathroom?
What do you think of our design?
*This post contains affiliate links. All thoughts and opinions are my own. Thank you for supporting Home Maid Simple