We may earn money from the companies or products mentioned in this post.
I've mentioned a little on here, and some on my Facebook page that we are remodeling our bathroom. It started out as a small idea –
Get rid of the Walk-In Tub
Upon buying our new house, our realtor asked if we would sell the walk-in to her. She would take care of the removal and purchasing our new tub. That was the easy part. Mark and I like to dream with our homes. We truly love making a house into a home, and that includes making the layout fit (a reason
buying new
wouldn't be such a bad idea). Ideas began to flow, plans were made, and walls started to come down. Remodeling is very exciting, but I'm also learning I'm not as handy as I wish were. In our current stage, I can't do anything – it's electrical work. Mark does that.
What I have been doing though, is design planning! I've already bought new towels for just Mark and I (the other ones are 7 years old, gasp!), and started looking at fixtures. The one thing that we took the longest to decide on, but are the most happy with, are our new faucets. Since we gutted the whole bathroom, we've been able to completely customize the fixtures to our style.
Before I show you the faucets we're installing, let me show you a little of the reno plans.
OK, this isn't quite accurate. We've made some more changes since this plan was drawn. But just take a look at the master bath. It use to be the only upstairs bathroom, and only have a tub. We are adding the walk-in shower, and turning the doorway to open straight into the master bedroom. I am so stoked about this little retreat we are creating!
We of course wanted to make sure we got quality faucets, and when I think faucets, I think Pfister. Top of the line quality! We are installing the
Kenzo line
into our shower. Isn't it sleek?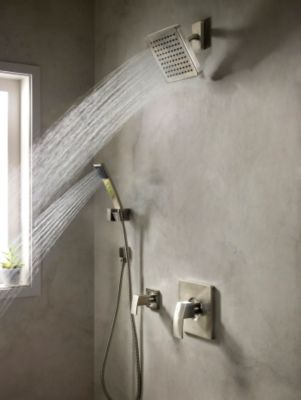 Pfister has been an absolute pleasure to work with and has sent us all the components needed to make sure it is installed correctly, along with extras like the towel bar and tissue holder. I really can't say enough good about the experience I've had working with Pfister.
So let me just share the experience with one of you! One lucky reader will be receiving their choice of Pfister faucet (up to a $400 value)!