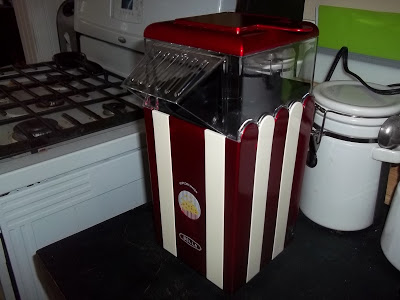 We may earn money from the companies or products mentioned in this post.
Did you ever have one of these? Do you still have one?
The majority of my childhood we lived in a duplex with my Aunt and Uncle on the other side. I have so many fond memories of those times spent on the other side of the house. For example, every Saturday morning, Aunt J would cook us pancakes, in whatever shape we requested. We had tons of Mickey Mouse pancakes, but periodically tried testing her skills with dinosaurs and teddy bears.
Another fond memory is her air Popcorn maker. When we had movie nights, we would head next door to pop our own popcorn. I loved pouring the kernels in, and then watching them pop, it was just so very cool!! We could add as much butter and salt as we wanted, and no ones bowl had the same amount of flavoring.
For a long time now, I've been wanting an air Popcorn maker. Thanks to a gift card I got to Macy's I was able to purchase (for free!) this Bella retro style Popcorn maker. I can't wait to share these memories and make new ones with my own kids. These are really so much fun!
I'm linking up over at The Heartfelt Home