We may earn money from the companies or products mentioned in this post.
This Stove Top Shepherds Pie was made possible by Keystone Meats. All opinions are my honest thoughts.
Storing food I have always found to be extremely important for those out of the blue emergencies. Learning to cook with the food you store is equally, if not more, important. This Shepherds Pie is made entirely from the food I've stored for those crazy emergencies.
So what foods should you store? Well, you want to start with your basics – flour, sugar, oats, spices. These are easy to come by, and can be stored, and rotated in a fairly decent time period. From there you want to make sure you have items for a healthy diet – fruit, vegetable, protein, and grains. Of course, the other big key to storing food is to make sure it's food you will eat. When we're hungry, we probably won't care too much as long as it's edible, but having food that your family will eat makes any emergency more pleasant.
I recently found out about Keystone Meats and thought it was a fantastic item to add to our food storage. While canned chicken is pretty common, I had never seen shelf-stable beef that wasn't freeze-dried or jerky. Along with the beef and chicken, Keystone makes canned pork and turkey as well.
As I looked at the Keystone Beef, I wanted to make sure it was something we could add to our food storage and actually want to eat should the occasion arise. So I came up with this recipe for Stove Top Shepherds Pie, made completely with items from our food storage. It contains servings of vegetable, protein, and starch.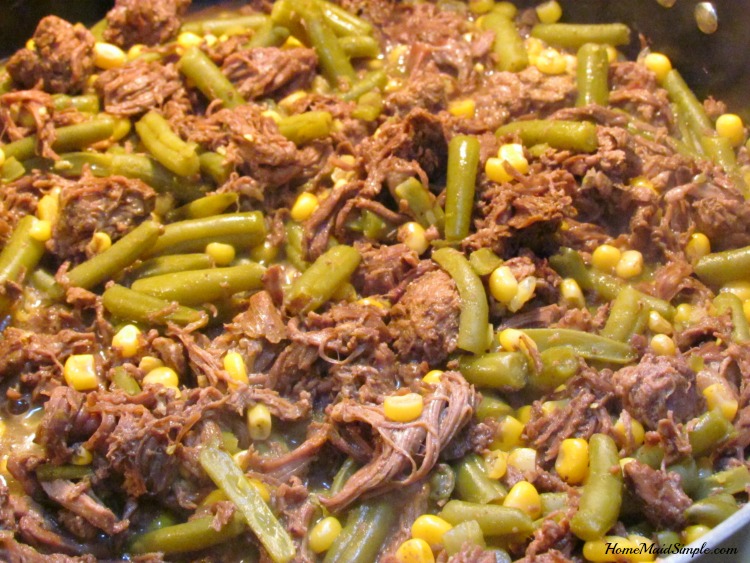 While normally Shepherds Pie is baked in the oven, this one is made on the stove top. I did it this way specifically because a stove top is similar to cooking over a fire or portable burner
– another item that should be kept with your food storage.
Food Storage Shepherds Pie
2017-01-16 15:39:05
Serves 8
Made completely from food storage, this Shepherds Pie will feed your family when an emergency strikes.
Ingredients
2 cans Keystone Beef
1 can Sweet Corn
1 can Green Beans
Salt and Pepper to Taste
4 cups Mashed Potatoes - from potato flakes or pearls.
Cheese (optional)
Instructions
Combine beef, corn and green beans in a skillet over medium heat.
Salt and pepper the meat mixture to taste.
Heat for 15 minutes.
Mix up mashed potatoes according to package directions. Spread on top of meat mixture.
Top with cheese, and cook for another 5-10 minutes.
Home Maid Simple https://www.homemaidsimple.com/
Now, I know I said I made this entirely with Food Storage, but I did add cheese. We picked up cheese for 10cents at Aldi one day, so it was part of our refrigerated food storage – not our long term storage. There is freeze dried cheese out there, as well as powdered cheese that may also work on this dish.