We may earn money from the companies or products mentioned in this post.
*I received these baseball books for review. All opinions are my own*
I LOVE baseball. Whenever the weather was nice enough, my family would head out to the local diamond to throw some pitches, and run the bases. With 6 kids, 2 parents, and an aunt, uncle and grandma all living under one roof, we had ample players for 2 teams. Or, at least, good enough to pitch, hit, catch, and tag.
I remember my first time going to a real ball game, sitting in the stands, trying to understand everything that was going, and figure out the scoreboard. There was way more to baseball than what we played on those perfect spring days. My parents were great, though, and always took the time to try and explain what everything meant when I'd ask questions. Questions like, "How are they going to get the ball from over the fence?" and "What is a foul ball?"
These questions and more are all answered in the My First Book of Baseball by Sports Illustrated for Kids.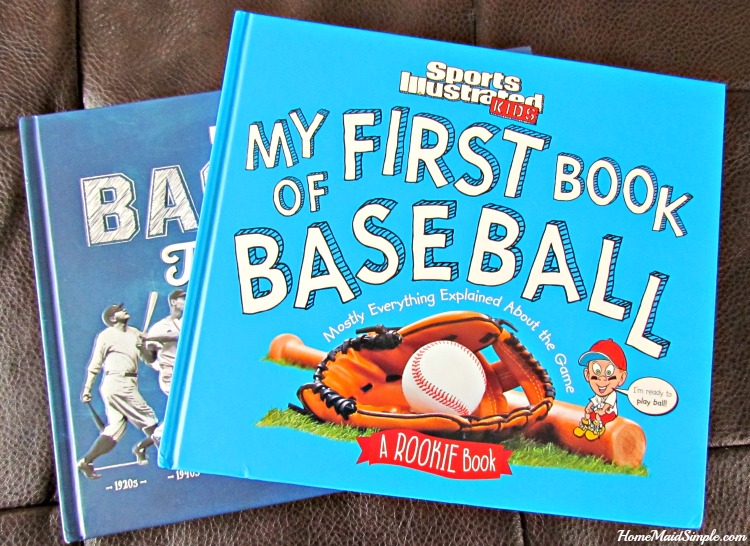 I was so stoked to check out these two new books from Sports Illustrated for Kids. Baseball is my first love when it comes to sports, and will always hold a special place in my life. Whether it was playing with my family, going to a game, watching the Red Sox on TV, or playing softball that one year in elementary school.
My First Book of Baseball did not disappoint. With bright colors and witty commentary from the young kid guide, I felt truly immersed in the sport. Lincoln, who has a hard time sitting still for books, was completely into it as well. He especially liked the 7th inning stretch, placed in a timely spot for us to get up and stretch!
Baseball Then to WOW! is geared more towards kids who already have an interest in the sport. Perhaps they're on a team, or just enjoying wathcing the game. There are more black-and-white photographs from the early days of baseball and a whole lot more reading to be done in this book.
That's not to say I didn't enjoy it, though. Because I did. Immensely. Many of the pictures reminded me of the cards I used to collect. I had a long white cardboard box, the perfect size for the cards. Allowance money always had a gum budget solely for the hope I'd get a rare player card and one I didn't already own. Otherwise, it would mean an attempt at trading with my brothers who were just as possessive of their cards as myself.
Have a Baseball enthusiast in your life, and want to speak their language? Then enter the Giveaway! One will win both Sports Illustrated for Kids Baseball Books – My First Book of Baseball and Baseball Then to WOW! Open to US 18+ ends 4/11/16
a Rafflecopter giveaway