We may earn money from the companies or products mentioned in this post.
This shop has been compensated by Collective Bias, Inc. and its advertiser. All opinions are mine alone. #CollectiveBias #AfterSchoolSnacks
Savory or Sweet? Sweet or Savory? That is the question of the day! School is starting back up, and along with better bag lunches I'm also trying to come up with more
after school snacks
for the kids. We did a lot of cookies last year, that *gasp* they became a bit boring. Plus, I didn't really care for the amount of time it took to make them. So what's a mom to do? Pull out some old childhood favorites of course!
OK, I actually turned to Mark for this one. He LOVES Bagel Bites and Delimex, and recalls them as a staple to his after school routine. I loved it! What better way to get dad and the kids connecting more than with easy to make snacks? I'm one year into this mom of school kids thing, and if I learned anything last year, it's that the kids can't focus on homework until they've had something good to eat. It also provides the perfect setting for catching up on their day.
So what do I have for you? Two after school snacks your kids are going to love, whether they have a hankering for something sweet or savory, these will hit the spot! Bagel Bites with their real cheese, homemade sauce and 0g of trans fat make a great savory snack, while
Delimex
Fruit Apple Cinnamon Taquitos will please any sweet tooth.
I just love serving up food that the kids and adults can all enjoy! Instead of just heating up the Bagel Bites, I knew we could make them just a tad more fun, and filling for these growing bodies. After talking to Mark, we came up with this recipes for Pull Apart Bagel Bites. We really love the fun pull apart bread creates, and knew the kids would too. You can find more great recipes on the
Bagel Bites website
.
Savory?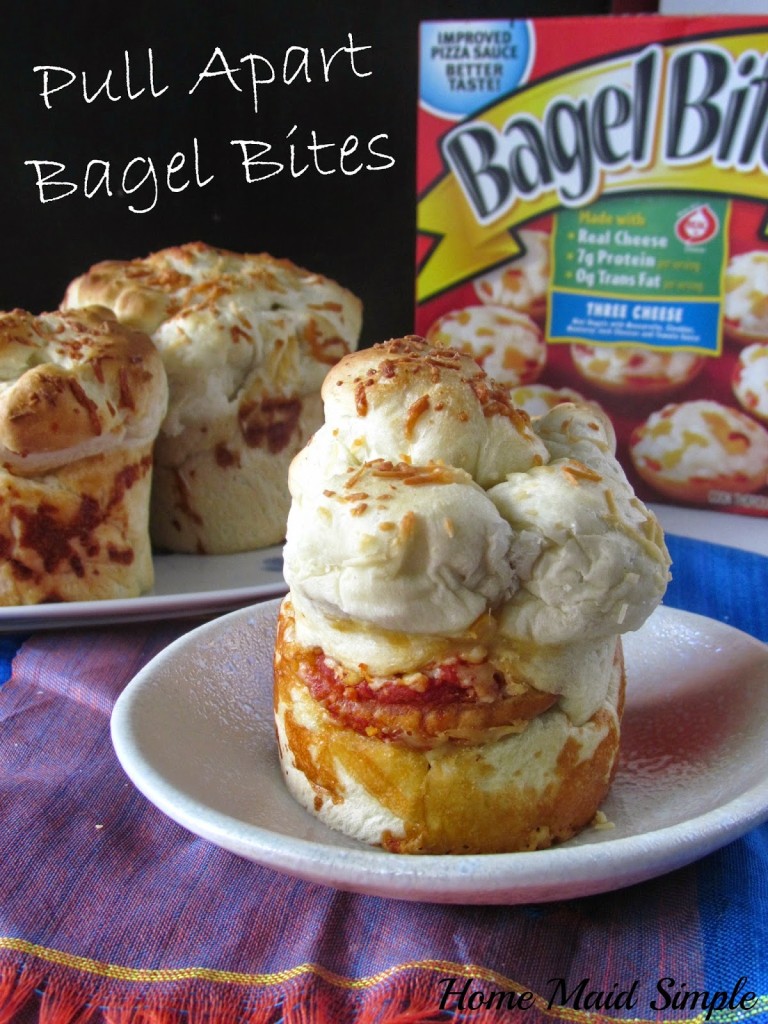 Pull Apart Bagel Bites
from Home Maid Simple
Ingredients
Frozen dinner rolls
Bagel Bites
Italian 3 cheese blend
Crisco
Directions
1. Lightly grease the inside of a muffin tin with Crisco.
2. Place frozen bread dough in a bowl and let thaw and rise. Tear off pieces into 1/2-1 inch balls. Make a layer inside muffin tins (I used a mini cheesecake pan).
3. Sprinkle in some cheese, top with a Bagel Bite, add another layer of dough and cheese. Let rise.
4. Preheat oven to 350 F. Bake for 15 minutes. Cool on a wire rack.
If you want it more family share style, skip the muffin tin and use a round cake pan. The extra room allows you to cut the Bagel Bites into 4ths and wrap inside the dough balls. Toss some more on top before baking, but bake the same as the muffins.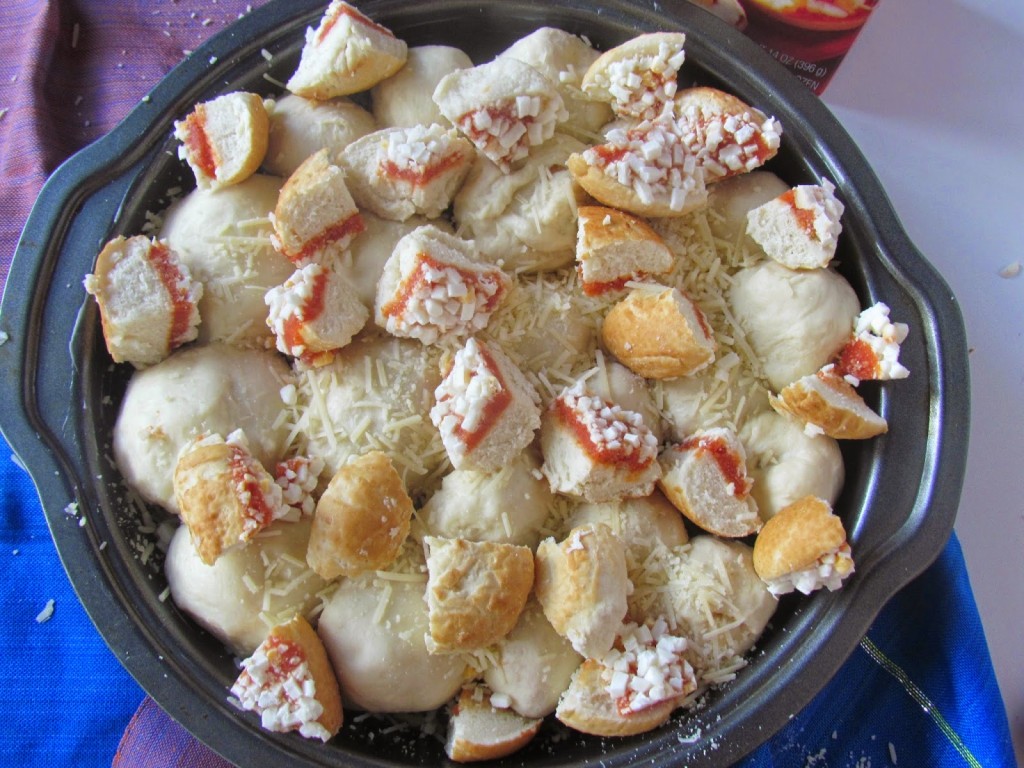 Or Sweet?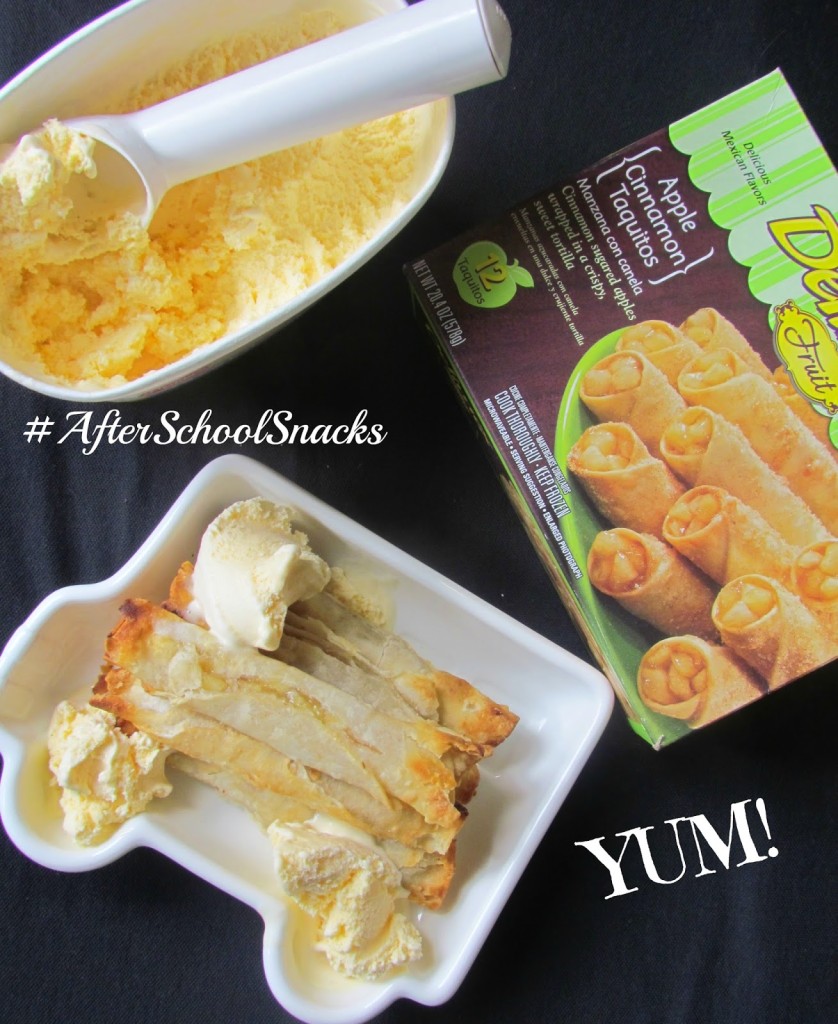 I went to our local Walmart to grab some Bagel Bites for Pizza Night and Delimex Taquitos for Mexican night, when what to my great surprise!? Delimex has Fruit flavors! I never knew, but you'd better believe I grabbed a couple boxes – along with our Pork Taquitos of course.
Although we all love a good family sharing of Pull Apart Bagel Bites, sometimes you just need a quick snack that's sweet as well. I didn't change a thing with these scrumptious rolls of sweetness. Just add ice cream to cool us down after our walk home, and voila – 12 minutes to the perfect after school snack.
Ready to stock up on Delimex and Bagel Bites for your #AfterSchoolSnacks ? Use these coupons!
What's your after school snack preference?