We may earn money from the companies or products mentioned in this post.
What a crazy week it has been! School and homework are in full swing here. My poor kindergartner loves going to school, but she really struggles with the homework. Not because she can't, but I believe she's just exhausted by the end of the day, and the thought of writing the same letter over and over again can be tiring for a 5 year old.
So I've resorted to making meals that are kid friendly, still healthy, but are especially FAST! I just don't have the same time to spend making meals completely from scratch every night anymore. Thanks to Success Rice, Tyson Chicken, and Kraft Recipe Makers, I found a great solution that was incredibly simple to whip up.
*I was provided with a box of Success Rice for review. All thoughts, opinions, and recipe are my own*
What kid doesn't like chicken nuggets right? My kids also are pretty fond of rice – surprising because as a kid, I couldn't stand it. So I thought to myself one night while the kids were whining over their homework and Prince L was screaming because dinner wasn't on the table – Self, I said, What can you make fast that everyone will love, but is also a nicely balanced meal?
I opened the cupboard, fridge and freezer, and realized I had recently purchased some pretty quick foods – Kraft's Sweet and Sour Recipe Maker – Tyson Chicken Nuggets – Boil-in-a-Bag Success Rice – and of course a freezer overflowing with zucchini. Yep, sounds good to me. Sounds amazing to me actually!
I was pleasantly surprised at how well Success Rice Boil In Bag turned out. I struggle cooking rice. Half of it is still hard, it's too mushy, and always always the pan is left with a layer of rice stuck to it. The boil in a bag method kept my pan much cleaner, and it turned out quite fluffy.
Ingredients
4 bags Success Jasmine Rice
1 box Kraft Recipe Makers Sweet and Sour Chicken
15-20 Tyson Chicken Nuggets
1 cup chopped Zucchini
14oz can sliced pineapple
Directions
Cook the chicken nuggets according to the package direction.
Meanwhile, boil the rice according to package directions.
While the rice and chicken are cooking, open the Sweet and Sour sauces. Follow the directions here as well, with the recipe included, but omit the chicken completely in the first few steps. Also instead of adding peppers, you'll be adding zucchini; and instead of pineapple chunks I used sliced pineapple, which I chunked myself.
Finally, add the chicken to the sauces, and serve over Rice.
Seriously oh so good. The kids couldn't get enough of the chicken nuggets and rice, though did a good job at avoiding that zucchini (it just keeps showing up in dishes…).
~FEATURES~
Chili Cheese Dog Mac N' Cheese
Another kid friendly and quick school night meal!
Avocado Crostini
This would be my kind of lunch, or quick snack between running the kids to and from school. Prince L will probably steal all the avocado though.
Chocolate Chocolate Chip Cookies
I made these this week. YUM. But don't leave out the extra chocolate chips. Even if it means running to the store last minute, put in the chips. The texture of these is so perfect!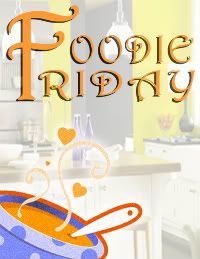 Foodie Friday happens every Thursday night.
Join Simple Living and Eating and I each week as we share a new recipe, and browse all of yours!
This is a FOOD PARTY, please only link up food related posts.