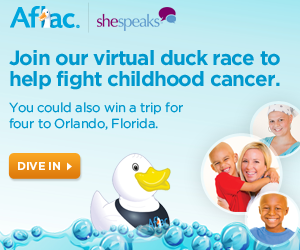 We may earn money from the companies or products mentioned in this post.
Did you know that this year alone, about 12,000 kids will be diagnosed with cancer? KIDS. That is a scary large number of kids with cancer.
Thanks to some great companies, parents, doctors, and communities, I believe we will eventually find a cure! For the past 17 years Aflac has been supporting the fight against childhood cancer.
September is Pediatric Cancer Awareness Month
You can help support pediatric cancer by donating $12 to the
Swim with Friends
fundraiser from Aflac. Each $12 donation will buy you a Rubber Duck, and on October 9th there will be a virtual Rubber Duck Race. If your duck wins, you win a family vacation for 4!
But the true prize comes from Aflac. For every $12 donation, Aflac will match it.

To get even more involved, come join the Aflac and SheSpeaks Twitter party tonight!
There's going to be all sorts of fun prizes at the twitter party, so if you have some time to talk about pediatric cancer, and support families going through it, come join us. Plus, and I just love this, Aflac will also be donating $2 to pediatric cancer research for every tweet with the hashtag #AflacKids
Get yourself started and send out a tweet now! Invite your friends and followers to support Pediatric Cancer. Copy this tweet, or create one your own: