We may earn money from the companies or products mentioned in this post.
I received Time for Kids Presidents of the United States for review. All opinions are 100% my own. This post contains affiliate links.
Happy Presidents Day! One of our less celebrated holidays, that mostly for the kids just means a day off from school to play and make memories.
I love Presidents Day because it gives me a chance to feel a little extra patriotic. In this day and age, the political divide seems to be stronger than ever causing hurt feelings between family and friends. I try not to let my political views cause contention so I mostly keep them to myself. Here is what I do allow to be known, though – respect for our country and the process every person goes through that runs for POTUS.
Time for Kids Presidents of the United States is an awesome introduction for kids to the 45 men that have presided over our great nation. They've all contributed what they thought was best for the good old U S of A, whether the people of their time agreed with them or not. This inside look allows kids to connect with POTUS in a real manner.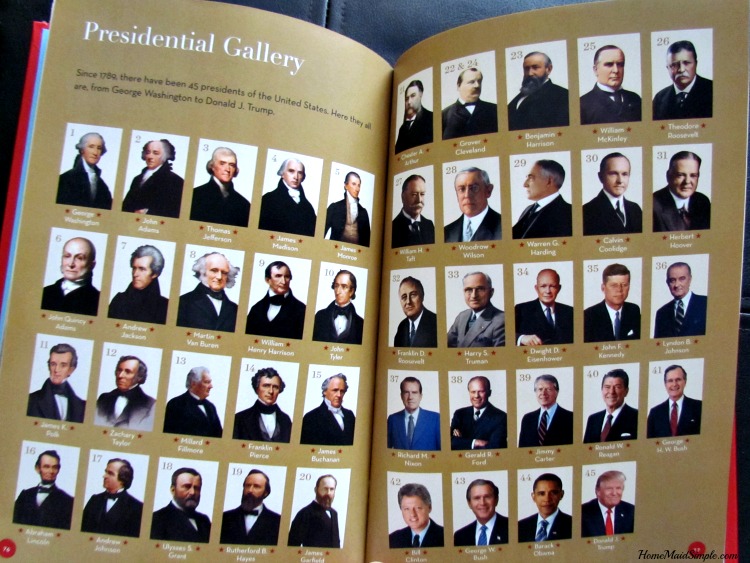 Last fall, Chloe and I had a fun discussion on what it takes to be President. In the midst of an election year, she was coming home with all kinds of ideas and opinions from other kids at school. In that discussion, I asked her what she would do if she were president. Here is her response
I'd get rid of all the bad guys.
That led to a discussion on who she would consider a "bad guy", and what a difficult decision that would be. Thank goodness no one of us, including POTUS, gets to make that final decision on who is a "bad guy" and who isn't.
There's just so much awesome in this book, but all in bite sized pieces easy for kids to read and explore by themselves or peruse with a parent. Each president has a page dedicated to their life and presidency, but one of my favorite pages is in the back – the First Ladies! There may not be a woman in the 45 presidents, but many were backed by some pretty awesome First Ladies like Eleanor Roosevelt.
Download this Free Presidents Day Activity Kit
So, while you may be just enjoying this day off with your kids, remember it's a great time to look back at our nation's great history. In honor of that history, Time For Kids is giving one copy of Presidents of the United States away to one of you! Enter on the Rafflecopter below.
Giveaway is open to US residents only. Ends 2/27/2017