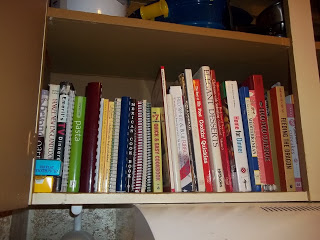 We may earn money from the companies or products mentioned in this post.
I love to cook! I love to bake! Most especially, I love finding and trying out new recipes. It's really rare for us to ever eat the same meal, even if it was pretty amazing! Mark has told me before, and I think he gave up, to please make something we've had before! One of my goals for 2012 is to organize and minimize my recipe collection so that we have at least few tried and true recipes to eat again and again.
The left side of my recipe cupboard (above the stove) is full of cookbooks. From classics like Betty Crockers Baking to exotic from Vienna, and from Breakfast to Desserts, I have plenty of cookbooks.
So why wouldn't I add on to them, by piling up recipes from magazines, like Taste of Home and Better Homes and Gardens?
Here's my problem! I have so many recipes, and places to look, that some never get touched! This past year I added a new system to my cooking. As I chose a recipe out of a cookbook I kept a pencil nearby. After eating, I tried to get a consensus of how well it was liked. If everyone enjoyed it, a penciled in a smiley face next to the recipe.
Eventually I will be able to go through each cookbook, and tally up the smiley's and frowny's. If there are more frowny's then that cookbook will not be kept. If there is a specific recipe in it that was truly amazing, I can write it down on a recipe card, and add it to my handy recipe box.
By the end of next year, I'm hoping my recipe cupboard has a few less books. Of course new ones wouldn't hurt, but I think I need to get rid of some first.
Another way to organize your recipes, is to go paperless! My new favorite website, and where I spend a fair amount of time, Pinterest! If you haven't heard of pinterest yet, I warn you, it is amazing, and thoroughly enjoyable! Here is a sampling of some of the recipes I've pinned to my food board
I'm linking up with Confessions of a Frugal Mind