We may earn money from the companies or products mentioned in this post.
I am so mad at myself right now! Someone linked up a BLT Pizza a few weeks ago, and I based this recipe off it, but now I can't find who it was! So if you shared a BLT pizza with us, would you let me know? Thanks!
Life is finally settling down around here. We can actually live a normal life in our kitchen and living room. Bedrooms are a work in progress still though. Eventually we will be all unpacked, and purged thoroughly to feel like real people again. Just slowly making this a home.
I think my least favorite part of moving into a new home is trying to get the kitchen organized. You need everything unpacked, but it takes a while to get things right where you want them, you know? So far I like our set up, but our big downside is no pantry. That means I have to figure out how to put dishes and food in the cupboards. Turns out I have too many of one or the other…..I'm not sure which though.
Veggie Pizza
Ingredients
Pizza Dough:
1 pkg active dry yeast
1 cup warm water
1/2 tsp salt
2 tsp Olive Oil
3 1/2 cups all purpose flour
Sauce and Toppings:
8 oz cream cheese
1/2 cup ranch dressing
1/2 tsp garlic powder
1 1/2 tbs Augason Farms Vegetarian Meat Substitute Bacon Bits
1/2 large tomato, chopped
1 cup lettuce, shredded
1 cup cheddar, shredded
Directions
For the crust: Dissolve yeast in warm water. Add salt, oil and 2 1/2 cups flour. Mix well. Add remaining flour 1/2 cup at a time until all mixed together. Let rise for about 1 hour, or until doubled. Punch down.
Press dough onto the bottom of a pizza pan – I used my stone cookie sheet. Bake at 450 F for 15 minutes.
For topping: mix together cream cheese, ranch and garlic until smooth. Spread across baked crust. Add tomatoes, lettuce, bacon bits, and cheddar cheese. Slice and serve.
~FEATURES~
Scrambled Egg Breakfast Pitas with Zucchini and Peppers
I love this twist and added veggies to breakfast.
Greek Panzanella Salad
This looks so refreshing to a regular green salad. The dressing especially sounds so flavorful.
S'mores Empanadas
I think my waist grew a few inches just looking at these. But so irresistible!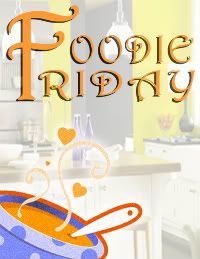 COHOSTED by Diane at
Simple Living and Eating
Link up your food recipes, and hop around. Enjoy a table full of new ideas, fun twists on old classics, and tips and tricks for cooking.