We may earn money from the companies or products mentioned in this post.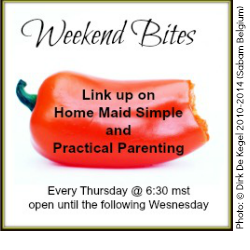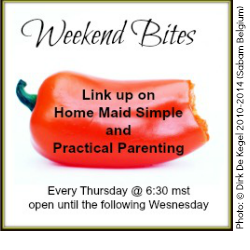 1. Link up your any food related post below
2. Browse the linky, visit some new blogs, and share if you feel so inclined.
3. Please only link up 3 posts. This lets us visit as many of you as possible.
4. By linking up you give me permission to feature your photos on Home Maid Simple (always linking back to you of course!)
5. Each month I send out a newsletter with the most popular links from that month – you may be featured!! This is a once a month newsletter, every first Friday of the month, no spamming involved.
Subscribe
!
This week, wow! End of the school year is coming up in a mere 2.5 weeks for us, and suddenly everything is going on. I volunteered at the kids school twice this week; learned today that despite my attempts at working out, I'm very out of shape to be running in cold weather; and have been running back and forth after school as we prepare for Princess V's dance recital this Saturday. I got to watch some of the rehearsals, and am so thrilled with how awesome it's going to be.
There were a few recipes last week that really caught my eye because of their out of the box ideas. I hope you enjoy these as much as me, and then stick around to check out what others are sharing this week.
FEATURES
Coconut Tempura Sweet Potato Fries with Curry Aioli
I'm still in awe over this. Sweet Potato Fries, battered, then deep fried and served with a fusion sauce. Quite a brilliant idea in my opinion.
Chicken Crust Pizza
Maybe not frugal, but healthier and more filling this chicken crust pizza will be.
Vegetarian Carrot Top Pesto Pizza
Carrot Tops, Miso Paste, and Naan Bread? That's what you'll find here!
Watermelon Goat Cheese Salad
Alright, maybe not terribly out of the box, because I have seen this before. I still find it an interesting combination, and one I have yet to try.
It's all I can do some days to put dinner on the table, and figure out something besides cereal for breakfast. When I come across unique recipes like there, I can't help but feel impressed with the creative minds behind them. Thanks for sharing ladies!
Grab a Featured Button!