We may earn money from the companies or products mentioned in this post.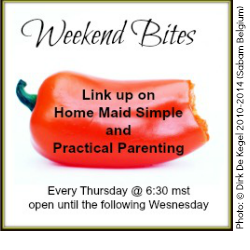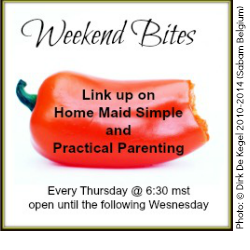 1. Link up your any food related post below
2. Browse the linky, visit some new blogs, and share if you feel so inclined.
3. Please only link up 3 posts. This lets us visit as many of you as possible.
4. By linking up you give me permission to feature your photos on Home Maid Simple (always linking back to you of course!)
5. Each month I send out a newsletter with the most popular links from that month – you may be featured!! This is a once a month newsletter, every first Friday of the month, no spamming involved.
Subscribe
!
I'm so sorry I don't have features for you this week. I've had time to browse over your links, but with our move to Indiana this week, I just could not keep up! The joys of moving, are numerous…er, perhaps the stresses. I try to find the joys instead though. We currently have no hot water, the gas will be turned on Monday. I took a brisk shower this morning as it was definitely a need before heading out to the public. Internet at the house won't be turned on until next Friday! I try not to live my life completely online, but I do use it for a good portion – like this blog (which happens to be a significant income), as well as my schoolwork. I was taking this week off already, but I must get back into school next week.
Such is life though. We have an amazing backyard, and front yard. The school is a 2 minute walk down the road, and I'm close to just about everything I could possibly ever need for shopping yet with a country feel to the neighborhood. Today's highlight was this find at a yard sale for $25. I think we finally have a table I will consider moving with us (of course I don't plan on moving again anytime soon).
Alright, enough of my rambling! Let's see what you've been cooking up this week! Share with us.