We may earn money from the companies or products mentioned in this post.
If you're new to Weekend Bites, here's the run down
1. Link up your any food related post below
2. Browse the linky, visit some new blogs, and share if you feel so inclined.
3. Please only link up 3 posts. This lets us visit as many of you as possible.
4. By linking up you give me permission to feature your photos on Home Maid Simple (always linking back to you of course!)
5. Each month I send out a newsletter with the most popular links from that month – you may be featured!! This is a once a month newsletter, every first Friday of the month, no spamming involved. Sign up over there ——>
(the Foodie Friday one)
6. And of course if you feel inclined, grab a button above.
This week you all, this week! Last Friday I came down with what seemed like the flu, but by Saturday it was just a sore throat. A really really bad sore throat that turned into laryngitis. Mark has been recovering from a pretty bad cold himself that lasted about 2 weeks. I was finally starting to feel a little bit better Thursday morning, when 2 of my kids woke up with Pink eye. Definitely pink eye! Currently child 3 has started in on the symptoms, so to be safe and kind to everyone – we're all staying away from people.
My poor kids though, it means missing our church Halloween party which was looking to be quite a blast. We'll just have to make our own fun here at home, and I found quite the inspiration from you all last week.
Eye of Newt Cake
What makes this truly amazing is how simple it is to make!
Boo-Nanas
So kid friendly, and healthy too
Creepy Crawler Cocktail
This can also be made without alcohol for a kid friendly party
Halloween Bark
A great way to use up some leftover Halloween Candy too!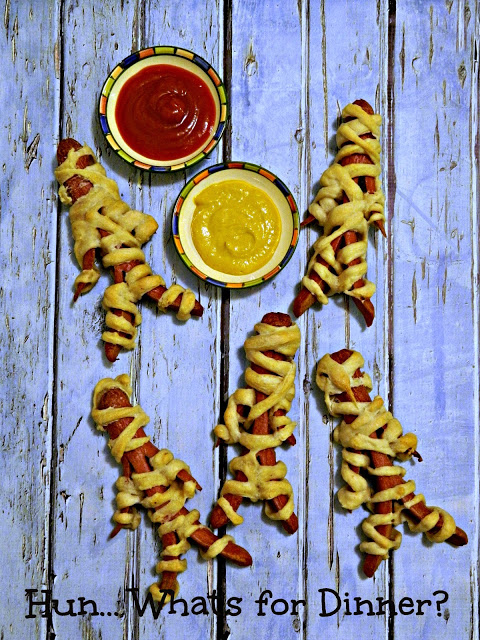 Dough Wrapped Mummy Dogs
Kids love fun shaped food. I don't know why, but they do.
Grab a Button!