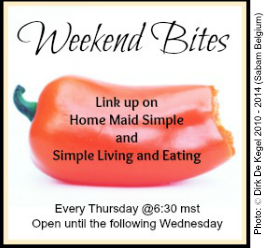 We may earn money from the companies or products mentioned in this post.
If you're new to Weekend Bites, here's the run down
1. Link up your any food related post below
2. Browse the linky, visit some new blogs, and share if you feel so inclined.
3. Please only link up 3 posts. This lets us visit as many of you as possible.
4. By linking up you give me permission to feature your photos on Home Maid Simple (always linking back to you of course!)
5. Each month I send out a newsletter with the most popular links from that month – you may be featured!! This is a once a month newsletter, every first Friday of the month, no spamming involved. Sign up over there ——>
(the Foodie Friday one)
6. And of course if you feel inclined, grab a button above.
There was something in the air this morning. I drove the kids to school, though we normally walk, and as I drove away I thought how much I missed being a kid. Riding the bus to school, playing on the playground and then sitting at a desk soaking up information surrounded by friends.
Perhaps it was the cloudy skies, the 40 degree weather, and bare trees – but it reminded me of "home". New Hampshire. So then as I'm going through your links from last week I can't help but be drawn to these recipes that remind me once again of my childhood.
from Sweet Caroline's Corner
This right here – I don't recall EVER having broccoli without cheese sauce. Normally our broccoli was steamed and we'd pour that delicious gold over the top. YUM!
also from Sweet Caroline's Corner
I think Sweet Caroline was channeling my childhood this week or something. But really now, this looks so much better then our steamed Brussel Sprouts. I think I may have been the only 8 year old who liked, and I mean really liked Brussel Sprouts! I should make them more often.
Rainbow Veggies Pizzas
from Belle of the Kitchen
My childhood was full of fun and healthy eating in the kitchen. This is something I could see my mom having come up with to let us make.
Thanks so much gals for taking me down a food memory today!
Grab a Featured Button if you'd like!