We may earn money from the companies or products mentioned in this post.
It's not often we go out as a whole family. For one, it gets expensive feeding 7 of us at a restaurant, and I'm just too frugal for that. Also, there's 7 of us. I think that speaks for itself.
If you follow over on Instagram, though, you'll know we took the family out to Zaxby's, a new to Indy restaurant last week.
This fast casual dining experience was a blast. I mean, yeah we were there with a bunch of other bloggers, but we were also out as a family in an environment that caters to families like ours.
The kids were bouncy in their seats, running back and forth to the soda machine that lets them pick their own soda, and even flavor it different! It's the never ending choices of carbonation, right at their fingertips.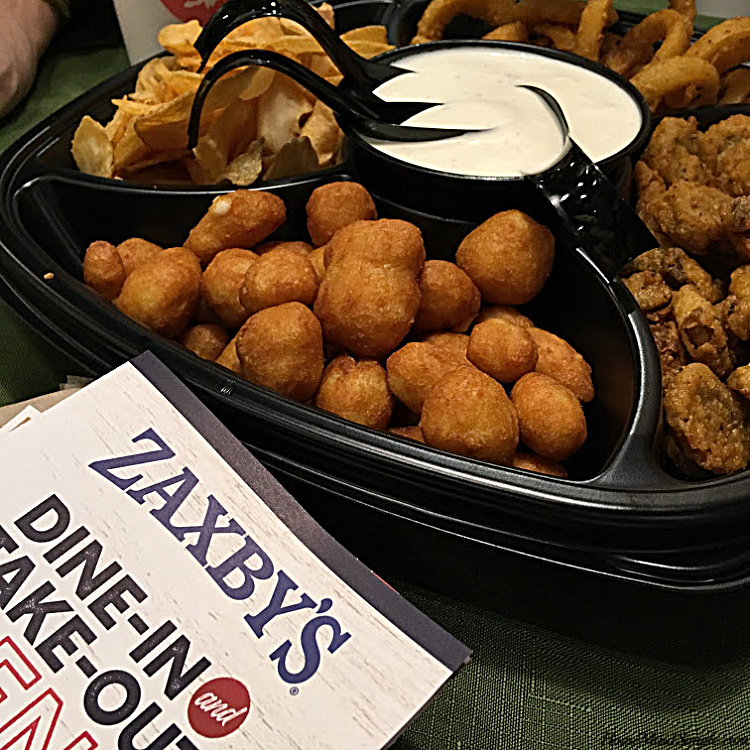 We started with an appetizer sampler while Jeff Furlin, one of the local owners, shared the Zaxby's mission with us. 
Fried White Cheddar Bites, Onions Rings, Spicy Fried Mushrooms, and Tater Chips. The Mushrooms were ah-maze-ing! You guys, my kids hate mushrooms. They even pick them out of spaghetti sauce when they're diced too small for the naked eye to see. 
But at Zaxby's? My 12 year old tried them, and turned to me "Mom, these mushrooms are amazing!" She hardly ate anything else the rest of the night, and I'm thinking I might buy some stock in Zaxby's mushrooms.
Look at the size of that sandwich! I was impressed with the portion sizes for each meal. Chloe always has a big appetite and thought this was the best sandwich ever. Watching her try and take a bite was entertainment for everyone.
I had a difficult time choosing, as everything looked good. With a goal of my own to eat more veggies though, I went for the Cobb Zalad with Honey French dressing and grilled instead of fried chicken. 
It was everything a cobb salad should be, and again, the portion size was humongous. I ended up taking it home to eat for lunch the next day, because it was definitely 2 meals in one. 
Zaxby's Giveaway
With the opening of the new Indianapolis Zaxby's, I was given the opportunity to share this good chicken with my lovely readers. So just in time for the holidays, I'm going to send your family to a local Zaxby's. Along with a $25 gift card for food, I'll also be sending you a cool Zaxby's coozie and phone wallet! 
Giveaway is open to US age 18+, residing near a Zaxby's. Check your nearest Zaxby's location.
a Rafflecopter giveaway