We may earn money from the companies or products mentioned in this post.
Holidays are upon us! Have Pomegranate Lemonade on hand to add to a little sparkling beverage and you'll always have a delicious special drink to share.
One night, while I'm putting the kids to bed, Mark receives a phone call. When I come out, he tells me someone is coming by with some pomegranates. Cool, I say. I love Pomegranates! But why, who gets rid of Pomegranates?
"Oh they said they bought too many, and don't want them to go to waste"
Sounds good to me. Though I'm not sure how anyone can buy too many pomegranates. They're like a once MAYBE twice special fall/winter treat I allow myself. So I wait up. Expecting them to come by with maybe 4-5 pomegranates. Maybe they weren't expecting the hard work that comes with eating this delicious fruit?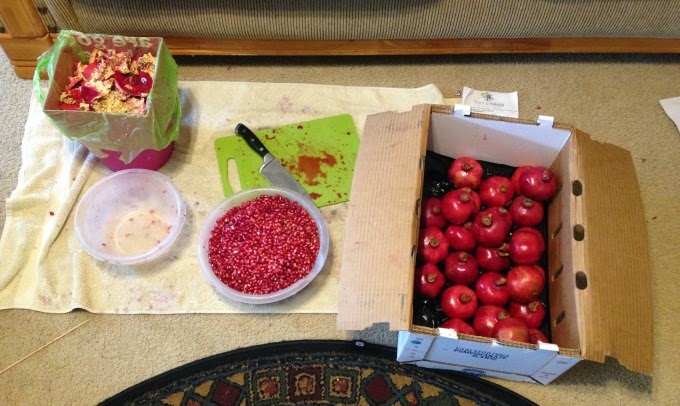 What I was not expecting were 2 1/2 boxes full with approximately 100 pomegranates! Seriously? I was most definitely in my own kind of fruit heaven. I spent the next 2 weeks…yes 2 weeks. Peeling this precious fruit and pulling out the little arils.
I tell you what, though, the work involved was completely worth it in the end. I have 2 quarts of frozen arils in my freezer – perfect for salads, parfaits, and adding color to other dishes – 6 pints Pomegranate Jelly, and then I took the rest and juiced them (which is no easy task without a juicer!), and made 3 quarts of Pomegranate Lemonade.
Pomegranate Lemonade
2016-10-22 10:41:10
Enjoy a delicious glass of Pomegranate Lemonade
Ingredients
2.5 Liters Fresh Pomegranate Juice
2 cups fresh squeezed lemons
1 1/2 cups sugar (more or less to taste)
Instructions
Combine the Pomegranate Juice, Lemon Juice and sugar in a pot. Bring to a boil, and simmer until sugar is all dissolved.
Depending on how sweet your pomegranate juice is, and how tart the lemons are you can add less sugar. My pomegranates were more tart, and lacking in the sweet flavor.
Pour hot juice into sanitized quart canning jar.
Dip lids in boiling water for a few seconds, then place on top of jars. Secure with jar rings.
Process in a water bath for 20 minutes. Let cool, and listen for a "pop" that will signify the lid is sealed.
When ready to serve, pour over a cup of ice and let chill. To make it fancy, mix with sprite or similar soft drink. Great for holiday gatherings.
Notes
Sealed juice will last up to 1 year.
Home Maid Simple http://www.homemaidsimple.com/
Love this recipe for Pomegranate Lemonade? Try this one for Pomegranate Stuffing