We may earn money from the companies or products mentioned in this post.
This recipe for Candy Apple Cookies has been compensated by #CollectiveBias, Inc. and its advertiser. All opinions are mine alone.
Fall has arrived! Well, maybe not officially, but the weather here in North Dakota has decided that it's time for fall. I'm not complaining though. I love fall. Most especially though, I love apples – apple cider, candy apples, applesauce, bobbing for apples, picking apples, and basically all
apple recipes
. It's not really fall without all these goodies.
Probably my absolute favorite way to spend a chilly fall day is curled up by a fire, with a cup of hot cider, a plate of cookies within reach, and a good book. In order to get this ideal scene though I've got to do a little bit of work. I WISH I could go to an apple orchard and pick my own apples, but as far as I've been able to find, there aren't any near me – for that matter I don't see any in the whole state. So since I can't get my apples fresh off the tree personally, I do the next best thing – I grab some apple products from Walmart.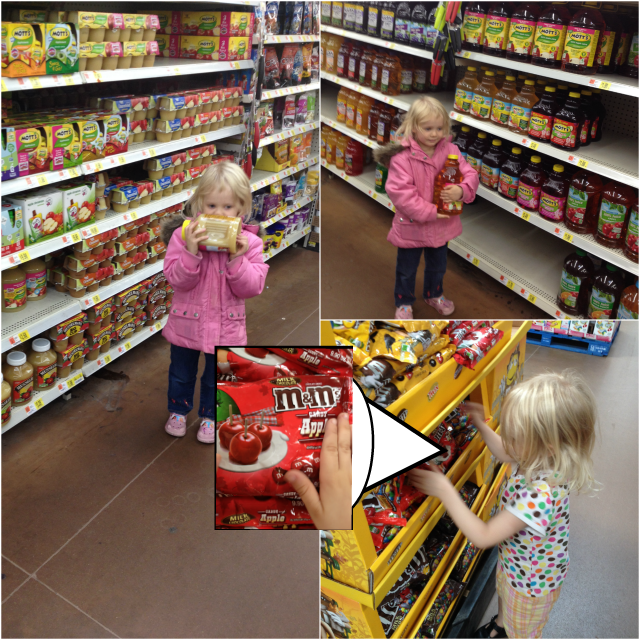 Yes, we sure did find some Candy Apple m&m's. These became the inspiration behind the Candy Apple Cookies made with Motts Natural Apple Sauce. We also picked up some of Motts Apple Juice to create a quick and easy Cider. Enjoy the #FlavorofFall with the following recipes.
Quick Apple Cider
2017-10-09 11:22:04
Easy apple cider.
Ingredients
64oz Motts Apple Juice
1 tsp ground cinnamon
15 whole Allspice
1/2 tsp grated lemon peel
1/2 tsp grated orange peel
Instructions
Combine all the ingredients in a large pot.
Bring to a boil.
Serve warm with Candy Apple Cookies!
Home Maid Simple https://www.homemaidsimple.com/
Candy Apple Cookies
Candy Apple Cookies
2017-10-09 11:25:06
Ingredients
2 3/4 All Purpose Flour
1 1/2 cups packed light brown sugar
1 tsp Sea Salt
1/2 tsp baking soda
3/4 cup Motts Natural Apple Sauce
1/2 cup shortening
2 eggs
1 tsp apple pie spice
1 cup Candy Apple M&Ms
Caramel
1/2 cup Peanut Butter M&Ms, crushed
Instructions
Preheat oven to 375 F
Combine flour, sugar, salt, baking soda, apple sauce, shortening, eggs, and spice.
Mix well and fold in the Candy Apple M&M's.
Drop by Tablespoon onto ungreased cookie sheet.
Bake for 10-12 minutes.
Cool completely.
Meanwhile, soften up the caramel sauce and crush the peanut butter M&M's.
Dip half of each cookie in the caramel, and roll through the crushed M&M's.
Home Maid Simple https://www.homemaidsimple.com/
Now if you are making these with your kids and an electric mixer, remember one thing – make sure it's off before you plug it in. Or you might end up like this
Oh these cookies and cider were so good. The kids especially thought it was fun dipping cookies into caramel. It adds a fun little mix to regular old cookies, and they are packed full of fall flavors.
I can't let the school kids miss out too much though, so I picked up some small juice drinks to pack in their lunches as well. Got to get them enjoying the new season as well.
Coupons