We may earn money from the companies or products mentioned in this post.
How to Clean Quietly – Tips for Silent Cleaning
There are many reasons why you may need to keep the noise down when it comes to cleaning. Maybe you live in an apartment and can only clean late at night. Or perhaps you like waking up early on the weekend to get a head start on the cleaning but don't want to wake the rest of the family up.
The main reason people feel the need to be quiet around the house is when there is a sleeping baby. The usual advice for new parents is to catch up on some sleep while your baby is sleeping, but it doesn't quite work like that. Nap time is a precious time, a time where you can fully focus on a task with the knowledge that your baby will be fast asleep.
The one thing you don't want to do is cut that time short by making a lot of noise. Certain cleaning tasks can be quite noisy, and today I'm going to show you some tips that should minimize the noise, and reduce the risk of waking a sleeping baby.
Related Content: What Every New Mom Needs
Catch Up On Laundry
If there's one job that doesn't make much noise, it's folding laundry. If you're anything like me, you have no problem washing and drying the laundry. It's the endless piles of clean clothes in the laundry basket that is the problem.
Baby's nap time is the perfect opportunity to fold and put away the mountains of laundry. It can actually be quite therapeutic, and you'll feel a great sense of satisfaction if you manage to get through the whole pile!
The washing machine can be noisy, but you may still use it if you time it correctly. If your little one usually sleeps for an hour, you can start a washing cycle that lasts for one hour and thirty minutes. When the machine gets to the end of its cycle and the loud spinning and thudding starts you can be confident that baby will be fully awake again.
Another trick you can use is to lay some carpet underneath your washing machine. The majority of the noise is the vibrations going through the floor, and a piece of carpet will absorb most of these vibrations.

Invest in a Quiet Vacuum Cleaner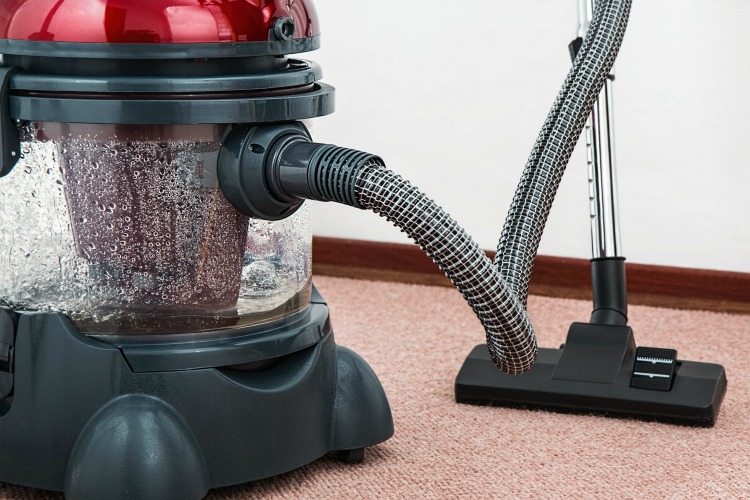 It may seem obvious to mention that one of the things you should not do if you want your baby to continue sleeping, is use the vacuum cleaner. You might be surprised to learn, however, that there is such a thing as a quiet vacuum cleaner.
Now, when I say "quiet", I should really say "quieter". There is no such thing as a completely silent vacuum cleaner, but there are several models available that claim to output around 50 decibels of sound. This is the same noise level as a regular conversation, so you can probably get away with vacuuming the rooms next to your sleeping child. Whether you want to risk vacuuming the same room as baby, that's entirely up to you!
Clean Things that you Have Been Putting Off
There are a few chores around the house that need a certain amount of time to complete, and can't be done successfully when you are watching your young child. Cleaning out the fridge is one of these tasks, and it can be done without making too much noise.
Take all the food out of the fridge, give all the surfaces a good clean, and then put the food back in an organized way. This is also a good time to dispose of any out of date food, or any food that smells a bit iffy.
Another quick and quiet job that often gets forgotten is making the beds. This is one of the best things to do when you are short of time, because it helps maintain the appearance of a clean home and will lift your mood as you go from room to room.
Having a baby is a magical time, you feel like watching their every move, even when they are sleeping! It's a good idea to use this time to do things you normally can't, and I hope these tips will help you to clean quietly and avoid prematurely waking a sleeping baby.
Author Sammy Dolan:

Sammy is a proud parent who loves nothing more than spending time with his family and teaching them the ways of the world. He loves writing about any topic related to home life. He currently runs the blog at Home Clean Expert.