We may earn money from the companies or products mentioned in this post.
With a new baby in the house, getting out for date night just doesn't happen. So, I've been looking for a fun home date night that we can do after the kids have gone to bed. I am a Chef'd Food Critic, and I received a product in exchange for this post.
Related – DIY Oil Change Date Night
Before kids, date night usually consisted of a fancy meal followed by a movie. After kids, date night became a thing of the past. Something we did maybe once a year on our anniversary.
At the beginning of this year, and before our 5th child was born, Mark and I recommitted to making our marriage and each other a priority. We both changed habits and worked harder at finding quality time to spend with just the two of us, sans children.
Once baby Harold was born, he took priority, as babies do, and the good habits we had been forming started to be pushed aside. I didn't mean to, but after getting up once or twice a night, getting up early to spend time with Mark before the kids were awake and he left for work – it just wasn't happening. We're 3 months in now, and I knew I needed to put our marriage back on the top of my list, followed by the baby.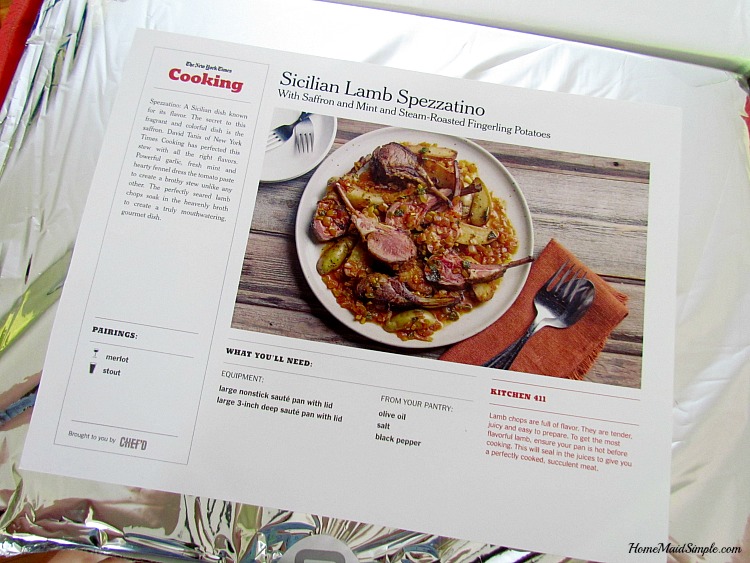 I heard about Chef'd, and knew I wanted to give them a try. Mark and I both love to cook, and I especially enjoy trying new foods and recipes. Chef'd looked like the perfect option to bring back home date nights. I envisioned it right away – we'd put the kids in bed and then Mark and I would dance around the kitchen while cooking a delicious meal just for the two of us.
OK, it didn't quite happen that way. But it was still a magical dinner in our own home because it wasn't our regular night of begging the kids to please eat their peas.
Home Date Night Tips
Pick a Date. Start each month by looking at the calendar. Pick a date and write it down! Don't pencil it, because that's too easy to change up. Once you have it on your calendar follow through.
Plan your dinner. With Chef'd you don't have to order a subscription. Instead, once you have your date night chosen, you go in and pick your meal. There's no obligation to buy more, and no subscription to cancel. Once you have your meal in your cart you pick the day you want it delivered. This ensures fresh ingredients on the day you want to cook them – it also seals that home date night on the calendar.
Take care of the kids. Feed the kids something quick and easy. Something they like and won't complain about. Then send them off to bed. Even better, if you can find someone else to take them for the evening or even the night, then you can have your house to yourself. We've done this and still had a home date night. There's something to be said for connecting in the peace of your own home, just the two of you.
Don't Forget Dessert. When we go out to eat, we usually end up skipping dessert because we feel like we have to rush home to kids. At home, the kids are already taken care of, and I find we are more relaxed. This makes prime dessert conditions. Chef'd has a variety of desserts I can't wait to try!
We tried the Sicilian Lamb Spezzatino for our first home date night, and I was impressed. Having never cooked lamb before I was a little nervous, but the directions from Chef'd were easy to follow. I did plate mine differently because I thought it would look fun this way, and it really was. The directions probably allowed for more of the sauce to soak into the meat, though, which would have made this better.
Our home date night started once baby Harold was asleep for the night. We sent the rest of the kids outside to play, and then enjoyed our meal. I pushed the mess on the table to one side, laid out our nice white table cloth, and even set up a candlestick. I could tell Mark was impressed with my preparation for the evening. We then dug in and enjoyed every bite.