We may earn money from the companies or products mentioned in this post.
This post is sponsored by The Good Stuff by Coupons.com All thoughts on natural hair care are my own.
Let's just get the elephant out of the room right now. I am a white woman that doesn't fully know the struggles of the Natural Hair movement.
Related Content: Hair Care Tips for Winter Ready Natural Hair
So phew, glad we could take care of that right away. When The Good Stuff asked me to write this post, I thought it was completely different. I had honestly never heard the term "natural hair" before. Other than in the respect that I have natural hair – it's not dyed (currently), it's not permed, and I don't spend hours of my day applying product or heat to make it do what I want. I would consider my hair "natural". Heck, the greys are even coming through and I'm letting them stay!
When I was just a kid, the compliments on my hair were always forthcoming. I often heard people wish they had hair like mine, while I was wishing to have straight thin hair like theirs.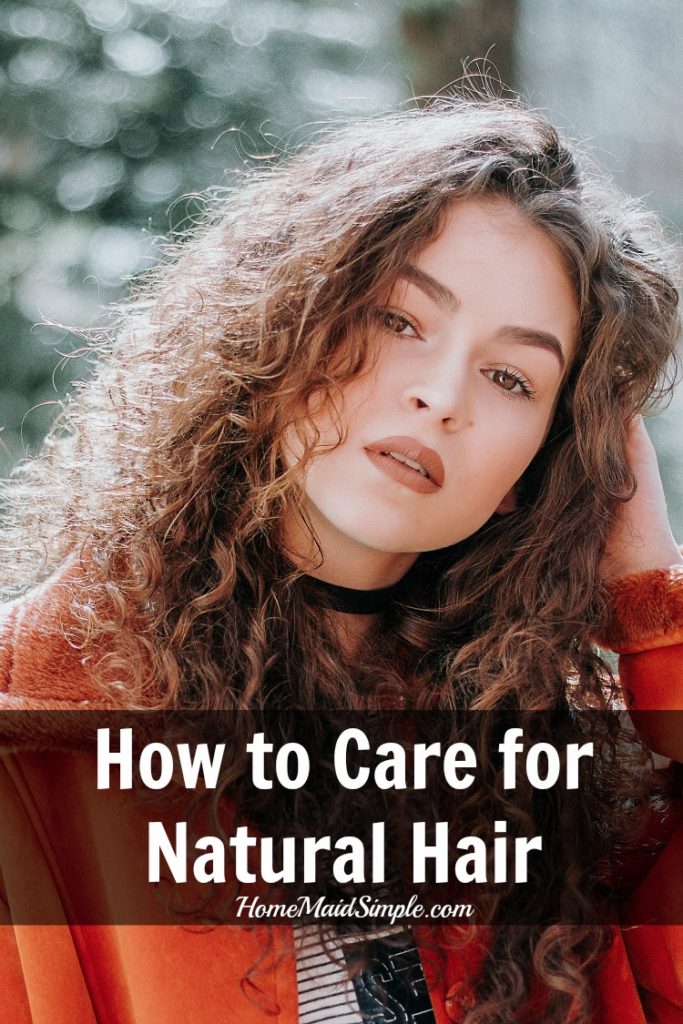 Mine was THICK, unmanageable, and the natural waves weren't cohesive – rather they had a mind of their own. I would have given anything for my hair to be thin and straight. Easy to brush, and to lay across my head the way I told it to.
These days, my tune has changed. I have come to love my hair, and desire to see other girls learning to love their natural hair too. With three daughters, we strive to teach them to love who they are and the way they look naturally. This includes understanding their different hair personalities and how to care for them.
Love Your Natural Hair
First things first – you must love your hair. If you love your hair, your hair will love you back. It's much like anything in life. The energy we send out, is the energy we will have returned to us. So if you currently struggle with your hair, try loving one thing about it – whether it's the natural color, it's health, shape, etc. Love on that one aspect of your hair, and overtime you'll start to love it all.
Maybe right now all you can say is that you love that you have hair! If that's where you have to start, then start there. Many are out there who would love to have hair, no matter the struggles it might bring.
Minimize Washing
Turns out, you don't need to wash your hair daily. In fact, daily washing really isn't great for any hair or scalp! I personally stick to more of a weekly wash and conditioning, but this is something you have to learn for yourself.
Depending on what you are doing each day, just pay attention to your hair and you'll know when it's time for another wash. If you are more active, and some weeks I am, you may find washing to be a more frequent need.
Keep it Natural
It seems to make sense that if you want to truly care for your natural hair, than you would keep your routine, well….natural. I don't use products in my hair. At least not very often. I'd love to say this is because my hair doesn't need them, but truth be told, I wouldn't know what to do with 90% of hair products set in front of me. On that note though, whenever I go to the salon, I receive compliments on how healthy my hair is. I don't think this is a coincidence.
By minimizing what chemicals and additives we put in our hair, then our natural hair can really shine. If you have to use product try to keep it as natural based as possible. Then only use it when absolutely necessary.
Let it Air Dry
One of the best things I can do for my hair is to let it air dry. It almost always looks the best, and minimizing heat on our hair helps keep it healthy. We can't always let it air dry (hello polar vortex), but the more often you can, the healthier your hair will be.
So from one white girl who believes in the natural beauty of all, please, love your hair! Let your natural beauty shine, because you are beautiful. Don't let anyone tell you otherwise.