We may earn money from the companies or products mentioned in this post.
Hide these Nocciolata Cheesecakes in the back of your fridge for a special treat on days when nothing but a little chocolate and cheesecake will satisfy. I received Nocciolata from Rigoni di Asiago in exchange for this post. All opinions are my own. This post contains affiliate links and I will be compensated when you click on and purchase through them.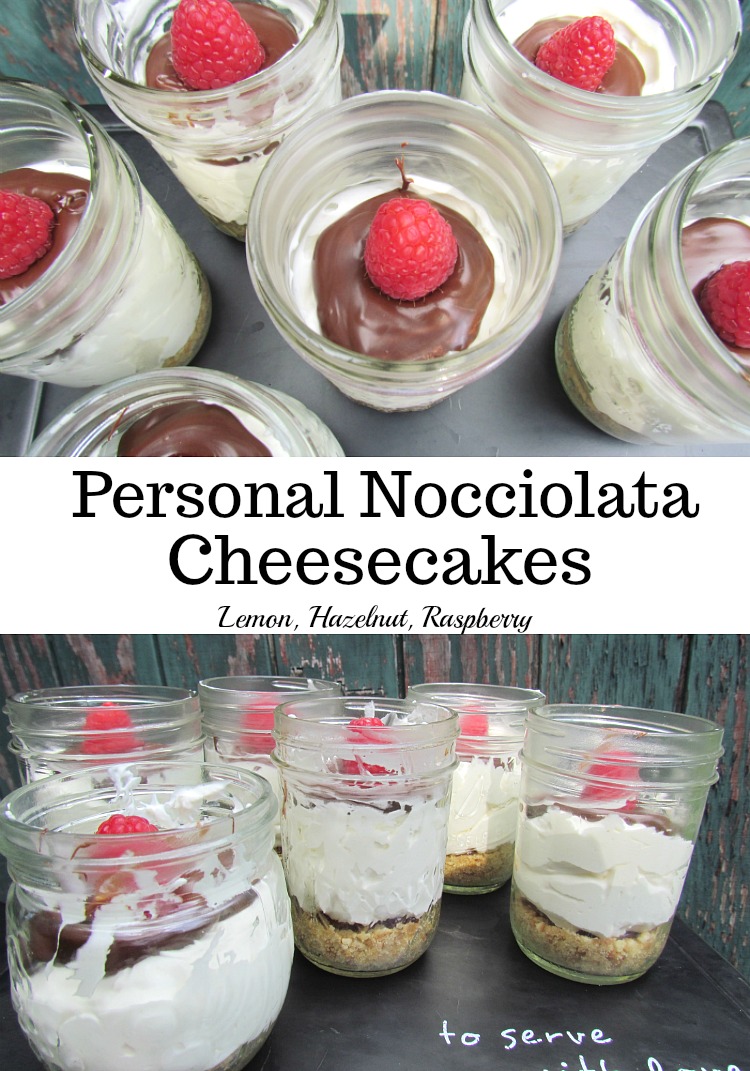 I have fallen in love with Rigoni Di Asiago this year. Their Nocciolata hazelnut spread and Fiordifruitta jams are incredibly delicious, so I had to use it again in my favorite dessert – cheesecake.
You may also like Neapolitan Crepes with Nocciolata
As I was dreaming of a cheesecake covered in Nocciolata I thought wouldn't it be nice to spread this out some more? Enjoy it more than just once, and in more managed portion sizes. It didn't take much to move from there to serving these Nocciolata Cheesecakes up in mason jars. I mean aren't we using mason jars for everything these days?
Nocciolata now has a Dairy Free spread for those who for one reason or another can't have milk. I'm pretty excited about this since Lincoln's allergy test came back showing milk as a possible culprit, but not hazelnuts. It means he can still enjoy some of this spread on a special treat now and again. Of course not this cheesecake, because it's all mine and it's not a dairy free dessert.
Nocciolata Dairy Free is so good it won the 2017 SOFI Award for Best New Product. The SOFI awards are given out to members of the Specialty Food Association to recognize outstanding work in advancing culinary excellence worldwide. It's pretty cool actually and has me wanting to look into more of the winning entries this year.
Let's get to the recipe already right? I hope you enjoy this as much as I do. The lemon cheesecake, with layers of chocolatey hazelnuts, topped with a raspberry is one of the more distinct yet simple flavor combinations I have ever created. It was pure indulgence on a spoon with every single bite.
Personal Nocciolata Cheesecakes
Personal Nocciolata Cheesecakes
2017-09-02 19:36:21
Ingredients
11/2 cups Vanilla Wafers, crushed
3 TBS Butter, melted
1 cup heavy whipping cream
8oz Cream Cheese
1 tsp Lemon Juice
1 tsp Vanilla Extract
1/4 cup Sugar
Nocciolata Hazelnut and Cocoa Spread
6 pint mason jars
Instructions
Combine the crushed wafers with the melted butter.
Press 1/4 cup of the mixture into the bottom of each mason jar.
In a medium bowl, whip the cream until stiff peaks form. Set aside
In a separate bowl, combine cream cheese, lemon, vanilla, and sugar until well blended.
Fold in the whipping cream.
Drop a spoonful of Nocciolata on top of the crushed wafers in each jar. Top with a spoonful or 2 of Cream Cheese mixture. Top with another spoonful of Nocciolata.
Garnish with a single raspberry.
Chill for 12-24 hours.
Home Maid Simple https://www.homemaidsimple.com/

You may be thinking that I'm selfish for keeping these to myself, but I promise I did share with my sister in law. Us moms have to stick together with back to school craziness. Who would you share these personal Noccioalata Cheesecakes with?