We may earn money from the companies or products mentioned in this post.
This week started out so beautiful. All the snow had finally melted, the kids were spending more time outside, and my Girl Scout Thin Mint Cookies arrived by mail (yes, I supported a friend and had them shipped across the states to me!)
Well, after eating box 1 of the Thin Mints and Caramel Delights, mostly by myself (I will not tell you how fast they went….that's between me and my stomach), I decided maybe I should get a little creative with the last box of Thin Mints. I've seen ideas and recipes all over Pinterest for using "leftover" Girl Scout Cookies, that I thought maybe I should hang onto some. Mind you, these were not leftovers, I don't believe in leftover cookies. They were just put to a better use.
I am at the moment wishing I had saved more of the thin mints. These were absolutely delicious! I happened to try out a new ingredient with these fudgesicles as well – chocolate extract. Did you know they made chocolate extract? It's a very new discovery for me, and I've already got my head spinning around the things I can create with it!
Thin Mint Chocolate Fudgesicle
2016-04-19 08:26:18
Creamy delicious Thin Mint Chocolate Fudgesicles
Ingredients
Ingredients
1 cup Heavy Whipping Cream
1 cup 2% Milk
1/2 cup sugar
2 egg yolks
1/8 tsp salt
1 tsp corn starch
1/3 cup Rodelle Dutch Processed Cocoa powder
1/2 tsp Rodelle chocolate extract
5 Thin Mint cookies
Instructions
In a medium saucepan mix together the Cream, Milk, sugar, eggs, salt and corn starch.
Cook over medium-low heat for about 10 minutes. Whisk every few minutes.
Remove from the heat and add the Cocoa Powder.  Mix well.
Return the pan to medium heat. Cook for another 10 minutes, whisking every few minutes.
At this point if you stick a spoon in and let it drip off, it will look and feel like melted ice cream.
Remove from heat and stir in the chocolate extract.
Cool on the counter for 1-2 hours.
Meanwhile, place your thin mints in a small Ziploc bag. Using a potato masher (or bottom of a cup, or rolling pin), crush the cookies.
You'll want to use approximately 10 Popsicle molds.  Evenly distribute the crushed cookies into the molds.
Once the chocolate mix has cooled, pour it on top of the crushed cookies.
Using a chopstick (or skewer), slide into the molds to help the chocolate surround the cookies and reach the bottom of the mold.
Add the popsicle handles, and freeze for 3-4 hours.
Once frozen, run the mold under hot water for a few seconds to help loosen it.
Remove from the mold and enjoy!
Adapted from Shop Cook Make
Home Maid Simple https://www.homemaidsimple.com/
I kid you not, the Thin Mints permeated the whole fudgesicle so every bite was full of that girl scout cookie goodness. This easily tripled my cookies and made sharing them with the kids not so hard.
And would you know it, I woke up to it snowing this morning! Thank goodness it didn't stick, but it sure is cold here again.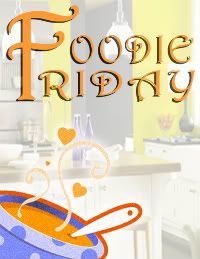 ~FEATURES~
I just need to say this – It's getting too hard to pick features!! You all have so many wonderful looking recipes! So since Diane and I can't feature you all, please please go check out the linky, and visit some of the other blogs. You are sure to find something yummy to add to your menu's!
from Wyoming Girl *Turned* Coastie Wife
Pork is our families choice of meat, so I know these won't disappoint. Plus they are super simple!
from A Bright and Beautiful Life
We run out of Ranch too often in this house! Now I can always have some on hand, because yes it does go with everything.