We may earn money from the companies or products mentioned in this post.
Welcome Welcome!! What do you think of our new logo? No longer are we Foodie Friday – though we had a good run with that name – but now we are Weekend Bites. We would love it if you grab the new button to place on your site, and if you have the old button to replace it. Our hope is that the new name will encourage you to come by throughout the weekend and continue to share and get inspiration with us.
Let's get the party started with a re-introduction to your hosts!
I'm Adelina, owner of Home Maid Simple. We've been around the web for 4 years now, and thanks to some awesome readers who keep coming around, we just keep growing and getting better.
I'm the mother of 4 adorable children, who I'm pretty sure have made me lose my mind. I'm not as organized as I use to be, and my house looks nothing like a BHG spread. But that's ok, because we're enjoying the journey and doing the best we can. We recently moved to North Dakota (incase you missed that crazy adventure!) where my dear husband Mark now teaches music at a private school.
I love food, and cooking, and baking, and most of all I really love eating. So something pictures don't happen, because I just want to eat it. Here are a couple of my favorite recipes I've shared in the past.
Caramel Apple Cookies
Meet Diane!
Diane is the owner of Simple Living and Eating. She lives in the great state of New York with her 2 kids and husband. Her husband built a canoe, and her daughter likes to help bake. One thing you'll learn about Diane is she is genuine. Every post, comment and reply fro Diane is because she truly cares and wants to get to know you more. Out of anyone I could have asked to host this party with me, I couldn't have found someone better than Diane.
Now that you know who we are, it's time for a little featuring! If you are featured go ahead and grab the Featured button to display on your site
These were the top clicked recipes from last weeks party.
Sesame Broccoli Quinoa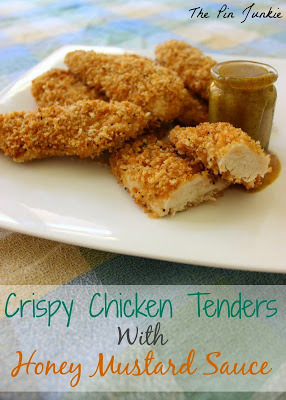 Crispy Chicken Tenders with Honey Mustard Sauce
Caramel Apple Oatmeal Bars